Minister warns he'll ban schoolboys from trophies
Posted by Editor on June 2, 2013 - 8:54 am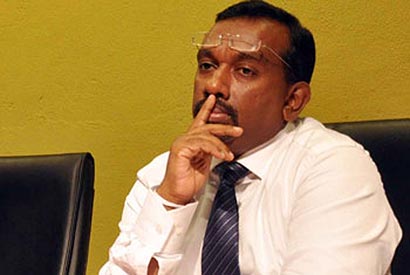 Increasing violence at school sports events, particularly in rugby, have alarmed the country's think tanks who are seriously contemplating banning tournaments which analysts contend have been the root cause of violence at matches.
Several incidents of violence and unruly conduct especially in school rugby matches during the current season led to several players being hospitalized as a result of physical force by opposing players besides referees being threatened and abused by spectators.
More often than not, referees have been jeered and even manhandled while drug-taking to boost performance have become the norm rather than the exception
Sports Minister Mahindananda Aluthgamage said that this trend could only be halted through tough decisions.
"If this pattern continues, there's no option but to ban these competitions and allow only friendly encounters," Minister Aluthgamage told Ceylon Today in an interview while adding that he was contemplating bringing schools sports associations under his direction.
"Look at the number of (school) cricket matches. When we were growing up we balanced work and education. But our priority was education. But today it has become so competitive that everyone wants to win. This is why they resort to drugs and violence," the minister rued.
He said no school should play for trophies and instead have their friendly encounters as in the past.
Analysts argue the pressure is high on players and coaches to produce results as millions of rupees are being spent on a four-month rugby season.
"There's no sportsmanship left. They fight like cats and dogs only because the expectations are too high. They want to win, win at any cost," declared Aluthgamage.
He said his repeated appeals to get school sports associations under his direct purview have so far failed with the Education ministry responding negatively.
"I will put up a cabinet paper shortly seeking its approval to get them under my purview" he said. "This is the most crucial age of an athlete. We need to guide them towards achievable goals in the right way".
One of the major incidents so far took place when Royal College aborted their rugby match against Isipathana after claiming they were hit by their opponents that resulted in four of their players taken to hospital.
(Source: Ceylon Today)
Latest Headlines in Sri Lanka