MPs take aim at Sri Lanka minister over dumped coconuts
Posted by Editor on December 1, 2011 - 7:20 am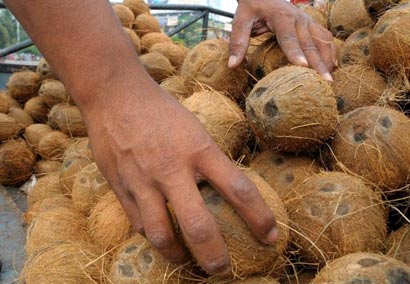 A government minister in Sri Lanka has come under fire over the fate of thousands of Indian coconuts.
Questioned in parliament, internal trade minister Johnston Fernando admitted that 22,500 coconuts had been dumped in the sea last year.
They were imported because of a shortage in Sri Lanka but the scarcity had subsided by the time the nuts arrived, the house was told.
They were then thrown in the ocean so as not to compete with local producers.
Mr Fernando's remarks have been criticised as "hilarious", while the speaker said the coconuts should have been given to those in need.
'Mad things'
The minister said the squandered coconuts had been valued at 690,000 Sri Lankan rupees (£3,900; $6,065).
"I'd like to ask you who took the decision to destroy them and import them?" opposition MP Dayasiri Jayasekera asked the minister in jocular exchanges in the chamber.
"At the time there was a coconut shortage," the minister retorted. "The opposition made a big fuss about it."
He recalled that opposition MPs had brought coconuts into parliament last December as a means of protest, and said the government would always import goods when local production fell short. As the Indian stock arrived, the price had already tumbled in Sri Lankan markets so the imports were destroyed.
Mr Jayasekera called the explanation "hilarious".
"Tomorrow if chickens are brought in and then there's no shortage, will they be destroyed too? What about eggs?"
The speaker, Chamal Rajapaksa, elder brother of the president, remarked that the coconuts should have been distributed among low-income families.
But Mr Fernando said the decisions had been collective ones, reached after discussions, and said the opposition would complain if imports damaged the coconut market and price.
The opposition MP said there was "no point in talking to a government which does such mad things". If the goods had been imported in error they could have been given to coconut oil producers, he said.
Staple food
Readers of the Sri Lankan Daily Mirror website, which reported on the coconut affair, expressed scepticism at the government's account of what had happened.
One termed it a waste of public money while another suggested the coconuts had been secretly sold.
Like rice, the coconut is a staple Sri Lankan food, widely used in curry, cooking oil and pickles as well as in religious rituals. Its water is also processed to make alcoholic drinks.
The country, though small, is the world's fifth-largest producer of the food and there was mild alarm in December 2010 when a shortage arose, which experts attributed to the unscrupulous clearing of palm plantations to build houses.
At the time many consumers could only get their hands on under-sized, scraggy-looking coconuts – but in due course, production levels were restored.
BBC
Latest Headlines in Sri Lanka