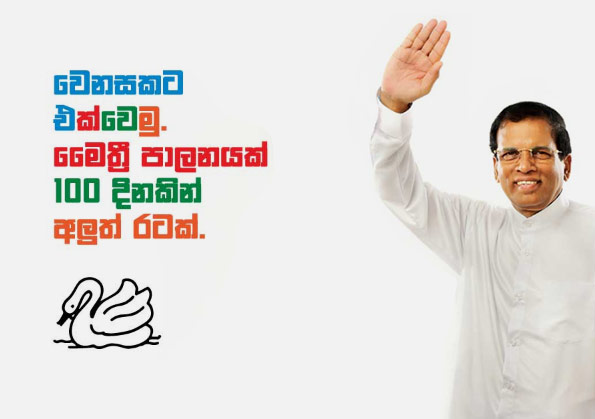 President Maithripala Sirisena, addressing the nation last night, said his intention was not to use unlimited executive powers that are vested in his position.
"There are some who have made various criticisms with regards to my performance during these 100 days. Some say I lack strength. Some say it is weak. Some say I am no leader. However, I wish to tell all such critics, and you, my people, that my behaviour in the last 100 days was not to use the unlimited powers that are available to this office. Why, because you elected me to distribute this power. I came for that purpose. I came to remove the unlimited powers of an Executive President. There could be many analyses about this. I wish to state clearly that my election manifesto states very clearly that my election would be to remove the unlimited powers held by Executive President. I wish to mention how flexible I have been on this matter," the President said.
While urging all parties to support the 19th Amendment to the constitution, President Sirisena said measures would be taken to present the draft bill on electoral reforms to Parliament. "It is now necessary for us to act in accordance with the decision of the Supreme Court. We cannot go beyond this. Therefore, in the past few days there were certain obstacles with regard to presenting of this 19th Amendment to Parliament. It is my respectful appeal to the honourable representatives of the people to consider this as a historic occasion that has come to you.
Voting for this will bring respect in history to you. Therefore, in order to ensure that we build the country that protects the people's freedom, democracy, promotes civilised society and helps build a disciplined country, it is my belief that every one of you will vote to adopt the 19th Amendment. I call on you to use your valuable vote for this and be a partner in firmly establishing freedom and democracy in this country," he added.
Commenting on the progress of the 100 day programme, the President said: "In the 100 days since then, we have as a new government, taken many important steps with regard to the country's economy, politics, development and international relations.
"I think that when the people of this country voted on January 8 they clearly carried out both a transformation, and revolution through the use of their democratic right. The manner in which the freedom and democracy obtained by this transformation and revolution has been used by certain elements in the past three months, their political decisions and activities, brings to my mind the occasions in world history when in countries that carried out revolutions were later faced with counter-revolutions."
"In the past three months this freedom has been restored and strengthened. This was similar with media freedom, too. I recall how prior to January 8 those who yielded political power spoke to the heads of media institutions, news directors and news editors. That included intimidation, threats and mental pressure. Today, the media is free of all this," President Sirisena said.
(Daily News)