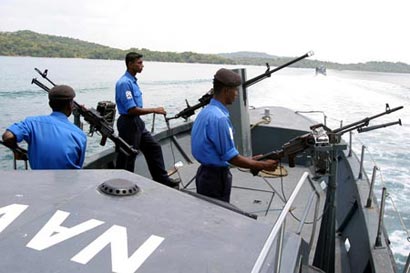 Coastal Rameswaram turned tense after Sri Lankan navy apprehended 26 fishermen and impounded their 5 boats that had sailed from Mandapam.
Ironically, even as their own people were being apprehended, a group of fishermen from the region staged a demonstration at Thangachimadam around 10 am urging the government to take measures to release 18 Pamban fishermen who were detained by Sri Lanka recently. Information about the latest arrests came as they were winding up their agitation at noon. "We had not even finished our protest when we received the news about 26 more fishermen being rounded up by the Sri Lankan navy," said R Sahayam, president of Savariar Fishermen Association in Rameswaram.
The fishermen were allegedly detained by Lankan navy near the 5th sand dune off Dhanushkodi coast. According to local fishermen, the Mandapam fishermen sail in that direction and fish near the dunes. The Sri Lankan border starts after the 5th sand dune in Palk Strait. "It is a dicey area where Sri Lankan border and Indian border lie next to each other. We have our doubts about the Lankan navy's claims that fishermen were arrested in their waters because the mechanised boats which started by Thursday morning would have not sailed deep into Lankan waters by noon," a Mandapam fisherman said.
U Arulanandam of Alliance for Release of Innocent Fishermen ( ARIF) said that the 26 fishermen were being taken to Kalpatti naval base and it was yet to be known in which court they would be produced. "We will come to know about their status by Friday morning", he said.
The repeated arrests of fishers from the region have depressed the fishermen communities along the coast. "Even when LTTE presence was prominent in the Palk Strait, the fishermen were not detained by Lankan navy in a row. We are afraid to sail," said Reegan, a boat owner from Rameswaram. Meanwhile, the Pamban country boat fishermen who had announced indefinite strike for the last three days have withdrawn their strike and decided to go fishing from Friday. "Fishermen are not able to manage the loss of livelihood due to the strike. We have no other option than risking our lives," said M Patrick, panchayat president of Pamban.
The Lankan navy had arrested 18 Pamban country boat fishermen on December 29. However, the fishermen communities have called a massive hunger strike at Pamban on January 8 to register their protest, Times of India reports.