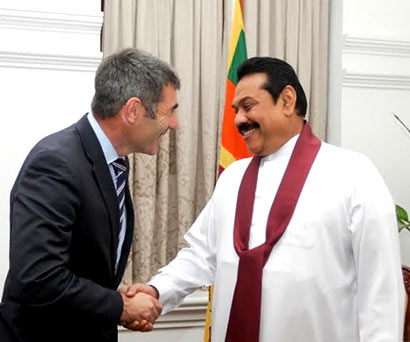 At a meeting with President Mahinda Rajapaksa at Temple Trees this morning, New Zealand's Minister of Primary Industries and Racing Mr. Nathan Guy, on behalf of his Government, offered support to Sri Lanka for relief efforts following the landslide in Koslanda last week.
"We offer our condolences for the landslides," Mr. Guy said. "We stand ready and able to assist if you need some assistance from New Zealand."
Mr. Guy is in Sri Lanka with a business delegation to further enhance economic cooperation between the two countries. The delegation, Mr. Guy said, represents a variety of different sectors, including hospitality, tourism, technology and the dairy industry, among others.
In discussing the dairy sector, the President proposed the exchange of farmers between the two countries as a way of learning from each other in the areas of agriculture and animal husbandry. "It's one area we should further explore," Mr. Guy agreed.
Mr. Guy also conveyed to the President the greetings of the Prime Minister of New Zealand John Key and the Minister of Foreign Affairs Mr. Murray McCully. He also thanked Sri Lanka for supporting New Zealand in its bid to secure a seat at the United Nations Security Council. New Zealand was elected one of five non-permanent members of the Security Council, for a two-year term starting January 2015, following a vote in the General Assembly in October of this year.
Mr. Key said it is "very important for us to represent smaller nations." In a press release issued by the Prime Minister's office following the vote in October, Prime Minister Key reiterated the significance of representing small states: "New Zealand's success in gaining a place on the Security Council is a victory for the small states that make up over half the United Nations membership."
President Rajapaksa is hopeful that New Zealand will be able to make a valuable contribution at the Security Council with its commitment to representing small and medium countries.
On another topic of discussion, President Rajapaksa has already officially been invited to attend the Cricket World Cup, which New Zealand is co-hosting with Australia in February 2015. Mr. Guy reiterated this invitation and encouraged the President to attend the opening game against Sri Lanka, scheduled to take place in Christchurch.
"We would love you to come down to New Zealand," Mr. Guy said. "It will make the cricket tournament very special," he added, noting that such a visit would make it the first time a Sri Lankan head of state will visit New Zealand.
The High Commissioner of New Zealand accredited to Sri Lanka Mr. Grahame Morton, along with several other officials, accompanied the Minister. Former New Zealand Cricket Caption Mr. Stephen Fleming was also a part of the delegation that met President Rajapaksa.
Minister of External Affairs Prof. G.L. Peiris, Secretary to the Ministry of External Affairs Mrs. Kshenuka Senewiratne and Sri Lanka's High Commissioner in Australia Admiral Thisara Samarasinghe were also present.
(President Media)