New Zealand PM rubbishes Sri Lanka's 'flawed' testing
Posted by Editor on August 11, 2013 - 3:32 pm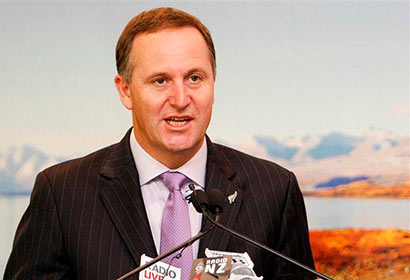 Sri Lankan test results for agricultural chemical Dicyandiamide in Fonterra milk products were "off the charts" in comparison to other "extensive" testing according to New Zealand Prime Minister John Key.
Officials in Colombo have ordered a recall after they say DCD, a nitrate inhibitor used in fertiliser, was found in two batches of imported milk powder.
Fonterra disputes DCD traces were present in the product in Sri Lanka and says testing regimes are flawed. The nitrate inhibitor is added to fertiliser and New Zealand officials say it is not dangerous.
The latest contamination scare comes after bacteria that could cause botulism was found in Fonterra infant formula, stemming from a dirty pipe in a Waikato factory.
Fonterra's Leon Clement, in confirming 40 tonnes of product had been recalled, rubbished the testing done by the Sri Lanka's Industrial Technology Institute as "inaccurate"
"As widely reported, Sri Lanka does not have the required technology to test for DCD in milk products," he said.
"If incorrect laboratory procedures are used, naturally occurring substances can easily interfere with the analysis, making it appear as though the milk powders contained DCD when this is not the case."
The ITI test results had been analysed by analytical chemistry expert Professor Brynn Hibbert of the University of New South Wales and found to be inaccurate, Mr Clement said.
The Cawthron Institute had also tested samples from the same batches of product tested by ITI and found no traces of DCD.
Professor Hibbert said the testing method used by ITI was not appropriate to either unequivocally show the presence of the chemical, or quantify that it existed at the alleged levels.
Key, meanwhile, added he was "extremely" confident in the reliability of New Zealand's own tests. But he admits "minor traces" of the chemical were found.
"The testing was very extensive," he told reporters at the National Party Conference in Nelson today. "It was tested in other jurisdictions, as I understand it.
"The sort of numbers that they [Sri Lanka] were talking about were off the charts and just don't bear any resemblance to anything else we have ever seen."
New Zealand's levels were "miles below" the Europe Union standard, he stressed.
DCD first became an issue last October when low levels were detected. However, the milk tainting did not become public until February, causing a furore in China and Taiwan, markets already sensitive to a previous milk contamination scare.
Sri Lankan officials and media have been agitating about the presence of DCD in New Zealand products since at least May. It is no longer used in fertiliser here.
Key stressed this was not a food safety issue. A consumer would "have to drink a swimming pool full of it," he said.
"We are very confident that the testing we have done is actually showing the DCD levels at the appropriate levels that they were first tested at when the scare first took place," he said
"We have been aware for some time that there has been discrepancies between the testing that has been done in New Zealand and what the Sri Lankan officials believe that they have tested for. I've got to say that we have tremendous confidence in our testing."
Key wouldn't speculate on whether Sir Lanka was being opportunist in the wake of last week's Fonterra whey contamination scare."It probably won't be helpful," he added.
Mr Clement added that Fonterra would be working with the Sri Lankan Government to correct the "misinformation" about the co-operative's milk powder products, he said.
"These inaccurate testing results have caused a lot of confusion for the public and we want to ensure that people know that they can continue to consume Anchor, a product that many Sri Lankans grew up on."
Sri Lanka, which has a population of 20.3 million, is New Zealand's fifth largest market for milk powder.
Almost 98 per cent of New Zealand's exports to Sri Lanka off the southeast tip of India comprises dairy products, with some mineral exports.
Fonterra has exported dairy products to Sri Lanka for over 30 years. It also has a processing plant using local milk and produces a range of dairy products.
NZ's primary industries minister Nathan Guy, speaking to reports before Mr Key, also claimed DCD is not a "food safety risk".
"It's something to do with the technical differences between the New Zealand testing system and also what's happening with the Sri Lankan testing system," he explained. "That's been disputed by Fonterra and others."
Kiwi representatives in Colombo are working with officials to "try and seek some clarity as to what exactly is happening."
He said it was a trade matter and Trade Minister Tim Groser and Foreign Minister Murray McCully are trying to seek answers.
"We have got to establish the facts. There are no food safety concerns with DCD. DCD was withdrawn from the New Zealand market in September," he said.
"So I think it comes down to the testing systems in the Sri Lankan country."
Cambridge farmer John Searle said unlike last Saturday's botulism scare, he doubted the Sri Lankan situation had much foundation.
"There's no danger or risk at all from DCD, as far as we know. They stopped [New Zealand] farmers from using it last year. I have never used it.
"I can't understand it. Unless they are using old milk powder, it's hard to see how it happened.
"That's just how it is. It seems to be dangerous to do anything these days. I don't think it will hurt us much in the long run. Dairy is the only thing that really makes a decent amount of money for New Zealand. They have tried other things, but nothing else seems to work."
Likewise, South Waikato farmer Paul Vossen was not worried about the latest development. "I suspect the Sri Lanka thing might just be an over-reaction. I don't think there is anything in it."
However, such scares were likely at present, because Fonterra had been moving too slowly in getting information about the botulism contamination to those who needed it. "That's what happens. People leap to conclusions. "I think this will all get sorted out, but this is another setback the guys at Fonterra don't need."
New Zealand was at the centre of a DCD scare earlier this year after tiny amounts were detected in dairy produce.
Guy said the issue has been "bubbling round" in Sri Lanka for "several months."
"The first time I became aware of it was in about May this year when I got sent an article from my counterpart up in Colombia [sic] the minister of agriculture basically saying don't touch New Zealand products because they are toxic. "Which is completely untrue … DCD is not a food safety issue."
He said there has been some "backwards and forwards" on different testing regimes. "There has been some differences of testing that's been ongoing and I just haven't got that period of time. We are trying to get to the bottom of those facts."
Fonterra spokesman Roshan Kulasuriya told AFP: "Our milk is 100 per cent pure. But we complied with the directive and have completed the recall of the two batches said to contain traces of DCD."
The 100% brand has taken a battering in the wake of the botulism scare. Prime Minister John Key yesterday stood by the slogan, but stressed it was a tourism marketing campaign.
Cabinet will tomorrow discuss establishing a ministerial inquiry into the botulism scare, which saw fierce criticism from Chinese authorities and international media. (Fairfax NZ News)
Latest Headlines in Sri Lanka