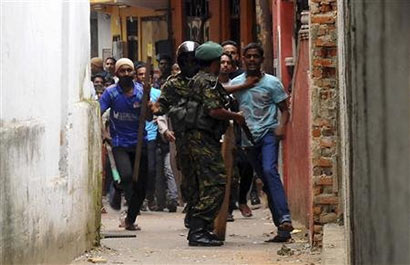 Muslim politicians representing the SLFP-led UPFA yesterday called upon the government to take tangible action against those responsible for Saturday's attack on a mosque at Swarna Chaitya Mawatha in the Grandpass police area.
Close on the heels of Muslim politicians' warning, the United States Embassy in Colombo expressed concern over the attack. The embassy said: "This incident is particularly troubling in light of a number of recent attacks against the Muslim community in Sri Lanka. Targeting any place of worship should never be permitted and we urge calm from all sides. We call for prosecution of perpetrators in this attack and an end to religious violence. The right of all Sri Lankans to practice the religion of their choice should be protected."
Meanwhile, the police curfew was reimposed in the area from 6 pm yesterday and it is due to be lifted today at 7 am.
Having met at Senior Minister of Urban Development, A. H M. Fowzie's official residence in Colombo, Muslim politicians demanded that the government move against those targeting their community to prevent a catastrophe.They emphasised the targeted place of religious worship wouldn't be closed down in spite of threats.
At the conclusion of the meeting, the group issued a strongly-worded statement urging President Mahinda Rajapaksa to initiate an impartial investigation.
The group alleged that there would never have been communal violence in Colombo if law enforcement authorities had responded swiftly and decisively when places of religious worship came under attack over the past several months.
Among those present at the meeting were SLMC leader Justice Minister Rauf Hakeem, Industries and Commerce Minister Rishard Bathiyutheen, Western Province Governor Alavi Moulana, Deputy Minister of Economic Development M. L. A. M. Hisbullah, Investment Promotion Minister Faizer Musthapha and Productivity Promotion Minister Basheer Segu Dawood.
Although Local Government and Provincial Council Minister A. L. M. Athaulla and Deputy Minister of Renewable Energy A. R. M. Abdul Cader missed the meeting at Minister Fowzie's residence, they endorsed their statement which is carried on this page.
Minister Hakeem's brother, Dr. A. R. A. Hafeez, said that the situation was rapidly deteriorating due to failure on the part of the government to take punitive measures against those propagating hate. Dr. Hafeez was responding to The Island after having participated in the meeting held at Fowzie's residence.
While the meeting was on at Minister Fowzie's residence, trouble erupted at the scene of Saturday's attack prompting Minister Hakeem to contact IGP N. K. Illangakoon.
During Saturday's incidents, 12 persons, including several policemen received injuries.
Police headquarters deployed the elite Special Task Force (STF) in support of the police to quell mobs. The police also imposed curfew until 7.00 a.m. on Sunday to prevent further clashes, while additional police took up position in the city.
The government refrained from deploying the army in Colombo due to ongoing investigations into army crackdown at Weliweriya leading to the deaths of three persons, including two schoolboys.
Colombo Mayor A. J. M. Muzammil told The Island that the government must not allow extremists to take the law into their hands. The UNP stalwart said the government's failure to act now would encourage more attacks. Responding to a query, Muzammil said that the situation wouldn't have deteriorated to such an extent if the government had taken tangible measures at the commencement of violence directed against Muslims several months ago.
Muzammil urged the government to ensure religious freedom and guarantee safety and security of minorities. Post-war Sri Lanka couldn't allow extremists to open a new front in Colombo, Muzammil said, warning that the ongoing development of the City and its suburbs could suffer a major setback in case the situation got out of control.
(Source: The Island – Pix by Reuters)