NFF to give Govt. Red Notice
Posted by Editor on May 5, 2014 - 9:49 am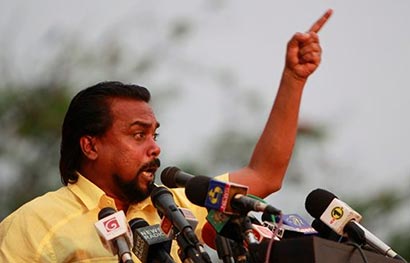 National Freedom Front (NFF) leader and Minister, Wimal Weerawansa said his party does not want to put on a false display of unity, while being within the United People's freedom alliance (UPFA).
He said his party would issue a red notice to the government at it annual convention to be held at Sugathadasa indoor stadium today. Thereafter, extensive dialogues will be held with regard to the correct direction in which the country should move. His party is always ready to come forward on behalf of the people to fulfill their needs, Weerawansa said.
The government has by now mixed the Mahinda Chinthana Dhekma' with the policies of the UNP's Regaining Sri Lanka (Yali pubudhumu Sri Lanka'), and is implementing them according to its agenda . But his party and the national forces are not in a position to agree with that. "It ought to be understood that everything in the country cannot be done away with to satisfy just two or three individuals, the minister pointed out.
(Ceylon Today)
Latest Headlines in Sri Lanka