No Grade 5 scholarship exam from 2016
Posted by Editor on December 20, 2013 - 6:54 am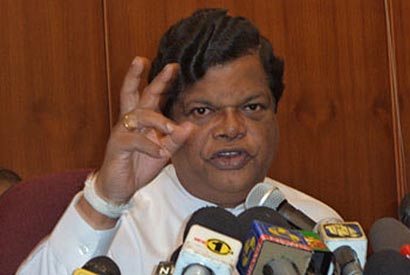 Education Minister Bandula Gunawardena said the Grade 5 Scholarship Examination will probably be scrapped from 2016 as a result of the secondary school development project, which is in progress. The minister addressing the media at the Education Ministry yesterday said however the Grade 5 Scholarship Examination will be replaced by an evaluation test. "The knowledge gathered during the Grade 3, 4 and 5 years by students will be evaluated at this evaluation test. This test will not be a competitive examination but a normal examination aiming to evaluate the performance of students. Students will be given one hour and 15 minutes to answer the test," he said.
"The test will measure the knowledge of mathematics, environment, and general knowledge aptitude of students," the minister said.
Minister Gunawardena said it will not be necessary to conduct the Grade 5 Scholarship Examinations from 2016 onwards, since the high demand for certain popular schools will fade away by then with the completion of the '1000 secondary school development project'.
The project has been scheduled for completion by 2016 by the Education Ministry, he said.
Minister Gunawardena said all secondary schools will be well equipped under the '1,000 secondary schools development project' enabling the ministry to discontinue the scholarship examination.
"The secondary school development project is carried out under the theme 'Transforming School Education Project' (TSEP). The objective of the TSEP, was to enhance access and quality of primary and secondary education to provide a foundation for the knowledge-based economic and social development of the country, the Minister said.
"The Transforming School Education Project would support Sri Lanka's Education Sector Development Framework and Program (ESDFP) 2012-2016," he said.
"Under the first phase, 405 secondary schools have been selected for upgrading covering the entire country. The schools, which come under the 1,000 school development program will have all facilities for teaching, and the learning process since the program commenced aiming to develop thousand selected secondary schools with the objective of solving the education related issues and shortcomings in disadvantaged rural schools, Minister Gunawardena said.
At least three secondary schools will be developed within every Divisional Secretariat division under the TSEP program covering the entire country. With this program, equal opportunities are provided for every child in the country, he said.
The minister said nine model schools will be constructed in every province apart from the 1,000 secondary schools. According to ministry statistics, 30,746 students, that passed the Grade 5 scholarship examination will be enrolled to popular schools for next year (2014). The figure was 29,955 for 2013.
(Courtesy: Daily News)
Latest Headlines in Sri Lanka