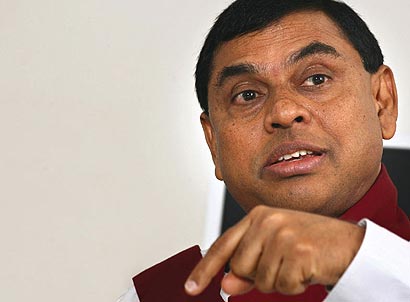 A new online visa scheme for all visitors will be introduced soon replacing the current on arrival visa for selected countries, Sri Lanka authorities say.
Controller General of Immigration and Emigration Chulananda Perera told BBC Sandeshaya that representatives of tourism industry whom he recently met agreed that it is a much improved measure than the current system of granting visa.
The tourism industry has earlier expressed concern that the new system might hamper the government's attempts to promote tourism in post-war Sri Lanka.
But Economic Development Minister Basil Rajapaksa says the new measure was aimed at helping tourists.
'At home visa'
"We have changed the on-arrival visa to at home visa," Mr Rajapaksa told BBC Sandeshaya.
The tourists intending to visit Sri Lanka could apply online supply few details such as name, passport number and date of birth, he said.
"Now anybody can apply visa from home and they would receive it within 24-72 hours."
The government says that the new measure would be introduced soon but there will be a trail period until it comes into force.
According to information provided by the Department of Immigration and Emigration, citizens of 81 countries including the USA and UK currently can obtain a landing endorsement for a 30-day period at Colombo's Bandaranaike international airport.
Only citizens from Maldives and Singapore will be exempt from obtaining visa as a reciprocate measure.
Mr Perera says the date of its implementation will soon be announced.
"There have been instances, for example, of visa being rejected at the airport but now you can get the response while you are at home," Minister Rajapaksa said.
He added that the government has allowed a trial period for those who are yet to get used to the new visa system. And until the visitors get used to the new system, the minister said, a parallel system of on-arrival and online visa will be operated.
"And there will be special facilities at the airport for those arrive with the online visa."
The authorities however stress that the current system of on-arrival visa would not be annulled without properly informing the tourists and other visitors.
News Source: BBC Sinhala – By Saroj Pathirana