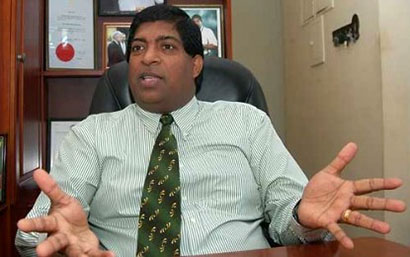 Finance Minister Ravi Karunanayake, in a startling revelation, said that the Northern expressway, for which the bids from the five contractors had been estimated at Rs 245 Billion, during the previous regime had overnight reduced by Rs 60 Billion!
Karunanayake was addressing the members of the Organization of Professional Associations on Friday night.
We summoned the five contractors and queried about the bids that they submitted to the previous government which, they said, totalled to Rs 245 Billion. When we questioned them, they said that they could do it for Rs 60 Billion less. When we asked them how, there was deft silence, which said it all, the Minister quipped.
This is the corrupt economy that we inherited, he said.
Speaking of the other corrupt practices of the previous regime, he said that there was the US$ 500 million deal for MIG aircraft where each of the helicopters which had cost only US$ 12 million, had been purchased for US $ 20 million each.
He also said that there was Rs 22 billion spent on the Defence Academy which no one was aware of the receipts and tender procedures.
He also pointed out that the funds from the sale of the land for the Shangri la Project and the CATC project at Galle Face had been remitted to the Defence Secretary's Account and not the Consolidated Fund of which Rs 7 billion had been spent without Treasury approval.
There was also another Rs 2.5 billion which was spent out of that as Architectural costs where the first instalment was Rs 800 million. There were no quotations for that at all.
There had been another Rs 30-40 billion which has been paid and nobody knows where the money had gone and what it was spent for, the Minister said.
He also said that the government had inherited a debt amortization of Rs 1828 Billion, out of which Rs 458 billion was interest payments and the balance was capital expenditure. We are unable to pay the debt amortization with the projected revenue for 2015 Rs 1532 billion and that was how the economy was bankrupt, he said.
He also said that the original thinking was that the government debt was a whopping Rs 6.9 trillion, but, now, it was at Rs 9.3 trillion, which had transpired within the last 24 days. The External Reserves, which were believed to be at US$ 9 billion, was now only US$ 7 billion," he said.
He also cautioned the mafia which attempted to manipulate the stock market earlier and added that defaulters would be brought to book.
(Ceylon Today)