Former BBC producer to make film promoting reconciliation in Sri Lanka
Posted by Editor on February 9, 2015 - 9:21 am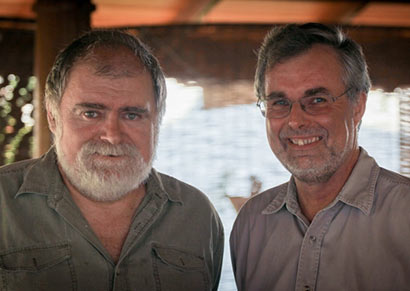 A former BBC television producer is raising money to fund a film promoting reconciliation in Sri Lanka after decades of civil war. Chris Langdon, who lives in Lambolle Road, Belsize Park, recently returned from Sri Lanka having shot a trailer for Healing The Wounds, a film exploring the relationships between the country's different communities since the war ended in 2009.
The 57-year-old, who produced the reports of BBC world affairs editor John Simpson for years, is set to make the documentary with Croatian film-maker Daniel Ridicki over the course of the next year.
On Wednesday, Mr Langdon screened the trailer at a special fundraising talk at Belsize Community Library in Antrim Grove.
He said: "We were delighted with the political changes that have happened recently.
"We want to take the window of opportunity to make a film that will help community groups reach out to other people in a process of reconciliation."
In May 2009, the Sri Lankan government defeated the Tamil Tigers, a military organisation fighting to create an independent state for the Tamil people, after a 26-year war.
Last month, Maithripala Sirisena beat incumbent president Mahinda Rajapaksa, who had been in office for 10 years, in elections to become the new Sri Lankan president.
Following these landmark events, Mr Langdon insists the time was right for the documentary to be made.
"There's a great window of opportunity after we have had regime change and days later the Pope visited Sri Lanka and talked about healing wounds," he explained.
"We filmed with the Pope. I sat with all the war veterans with missing limbs as he came past them."
Mr Langdon said the new president represented a fresh break from the old regime.
"He wants to end corruption, start good governance and create a balanced economy," said Mr Langdon. "So a modest regime has a devout Buddhist president from a rural background. He managed to capture the mood of the Buddhist community."
As part of the documentary, Mr Langdon and Mr Ridicki plan to film among communities from all of the four main religions – Islam, Christianity, Buddhism and Hinduism – in Sri Lanka.
"Essentially we will be bringing people from all communities together in the film to discuss what unites them and what divides them," he said.
"We will do it in a way that is attractive to watch and is right for a Sri Lankan audience.
"I hope it creates a common space for conversation between the different communities in Sri Lanka so they can have a national conversation."
(Source: hamhigh.co.uk)
Latest Headlines in Sri Lanka