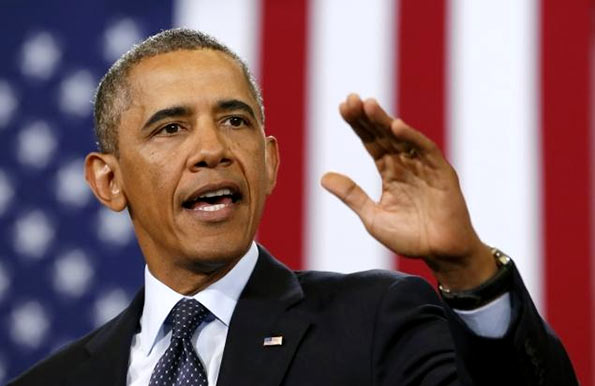 Plantation Industries Minister Lakshman Kiriella yesterday said that US President Barack Obama is to pay an official visit to Sri Lanka at the end of this year. He said the US President has promised to visit Sri Lanka at end of this year.
Kiriella added that many foreign leaders are prepared to visit Sri Lanka as they have confidence in the new government's commitment towards restoration of democracy and good governance in the country.
US Secretary of State John Kerry and Indian Prime Minister Narendra Modi had already visited Sri Lanka, such visits coming after a lapse of many decades, he said.
He said that the Opposition has charged the government with damaging relations with many countries who have stood by Sri Lanka when it faced many difficulties and problems through its No Confidence Motion moved by the Opposition against the Prime Minister.
Kiriella said that the Opposition has said through the No Confidence Motion that Prime Minister Wickremesinghe has no people's mandate to hold his office.
The Minister said that the people have given the mandate for the implementation of the election manifesto of President Maithripala Sirisena which says that the then Opposition Leader Ranil Wickremesinghe would be made Prime Minister when Common Candidate Maithripala Sirisena becomes President of the country.
He asked as to why the remnants of Rajapaksa regime are frightened when investigations are being conducted into the alleged financial misappropriation and irregularities.
"The former Secretary to the President is allegedly involved in obtaining Rs.600 million for the distribution of sil redi among the devotees, but nobody knows what happened to the money," he said.
(Daily News)