Only one vote majority for resolution; 24 say 'yes', 23 decline to support: Might overrules right
Posted by Editor on March 23, 2012 - 6:54 am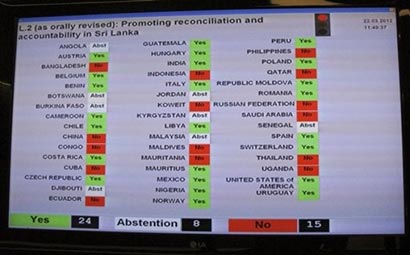 The United Nations Human Rights Council(UNHRC) yesterday passed the U S sponsored resolution against Sri Lanka with 24 countries in favour and 15 against with eight abstentions, which were essentially countries who are supporters of Sri Lanka. This brought the voting tally to 24 for and 23 against the resolution. Cuba, China and Russia, strong allies of the country voted against the resolution.
Earlier in the day, the chances of the US sponsored resolution on Sri Lanka being carried with a majority vote, increasingly looked the likely scenario with many of the countries who had hitherto pledged their allegiance to Sri Lanka backing away in the wake of intense pressure mounted by the USA and its allies.
Despite this Minister Mahinda Samarasinghe and the rest of the delegation made a fervent bid to change the minds of the uncommitted delegates to consider Sri Lanka's case in a favourable light,but it was apparent that a majority were prepared to vote in favour of the resolution or abstain due to the pressure exerted by US and its ability to wield its economic clout. However, only 24 countries voted in favour of the resolution in the 47-member Council.
Minister Mahinda Samarasinghe addressing the Council before the vote yesterday said that after 30 long years of instability and violence Sri Lanka has now achieved stability and peace.
"We need to be given time to further consolidate the clear progress that has been achieved in a short period of three years" he added.
He said "it is against this backdrop that my country is compelled to face a misconceived, unwarranted and ill-timed draft resolution, which embodies several harmful elements that clearly violates important principles that will have adverse ramifications, not only for my country, but many other countries"
The minister added " This is why we took a decision, on a matter of principle, that we will not accept such a resolution, in an endeavour to also ensure that a bad precedent is not established by this council" The minister also said that the resolution also runs counter to the principle of international law that domestic remedies must be exhausted and should be the first resort, prior to superimposing external mechanisms.
"In respect of Sri Lanka's situation it is barely three months since the presentation of the domestic mechanism's report. Is it fair for this council to pre-judge our commitment to all aspects of the domestic process at this juncture", he questioned.
He also pointed out that Sri Lanka has been a role model of, consistently and unambiguously, engaging with everyone in the council at all times over the years, including during the height of terror. Many other countries too spoke in favour of Sri Lanka while endorsing the country's view that it needs more time and space to address relevant issues without external interferences.
---
[Voting at the UNHRC sessions in Geneva]
It is against any country putting pressure on others in the name of rights violations. Sri Lanka has made rapid progress on Human Rights and realization of reconciliation process – China
---
The resolution was not necessary at this point of time. Sri Lanka should be given time to implement the recommendations of the Lessons Learnt and Reconciliation Commission (LLRC). We understand the trauma that Sri Lanka went through due to the war – The Maldives
---
We oppose the resolution as it is an attempt to dictate terms on a sovereign State how it should handle domestic issues – Russia
---
The Human Rights Council should not take a biased approach on Sri Lanka. Sri Lanka has shown willingness to improve its human rights situation. It has appointed the Lessons Learnt and Reconciliation Commission to investigate issues in the aftermath of the conflict – Equador
---
We question the legitimacy and credibility of the draft resolution put forward by the US on Sri Lanka branding it "unjustified and unnecessary". The US had still not closed its prison at Guantanamo despite President Barrack Obama promising that it would be. This could possibly become a point of confrontation and that it would be best if the resolution on Sri Lanka could be postponed – Cuba
---
Sri Lanka is struggling to rise out of the ashes of 30 years conflict which claimed thousands of innocent civilians in the country. It should be given more time to promote reconciliation. The resolution makes a negative impact on the smooth process of reconciliation of Sri Lanka – Bangladesh
---
We are against the resolution against Sri Lanka at this juncture as three years have only elapsed after the conflict – Kuwait
---
The technical advice mentioned within the resolution should not be used as an instrument of pressure on the have-nots. – Philippines
---
Sri Lanka as a member of the Non Aligned Movement has taken tremendous efforts to promote reconciliation in the aftermath of conflict – Qatar
---
Sri Lanka should be given more time to heal the wounds of conflict – Congo
---
Sri Lanka has taken many positive steps towards the implementation of the LLRC commission and external pressure at this juncture is totally unwarranted – Indonesia
---
We oppose the efforts to meddle with internal affairs of Sri Lanka – Thailand
---
Sri Lanka eradicated terrorism which destroyed the country for over three decades. The country has taken a number of steps to promote reconciliation – Uganda
---
We are of the view that Sri Lanka should have more time for reconciliation – Saudi Arabia
---
Lanka has made tremendous strides towards development in the aftermath of conflict – Mauritius
Courtesy: Daily News
Latest Headlines in Sri Lanka