Pakistan most unsafe for newsmen in south Asia
Posted by Editor on January 2, 2013 - 10:52 am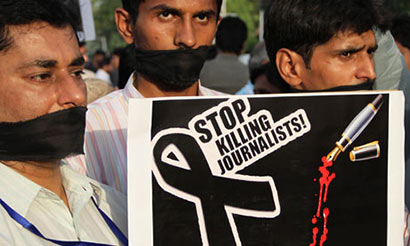 Islamabad, (IANS) Pakistan was the most volatile region for media persons in south Asia in 2012, with 13 journalists losing their lives during the year, a report said.
According to the South Asia Media Commission's (SAMC) Media Monitor 2012 report, five journalists were killed in India, three in Bangladesh and two each in Nepal and Afghanistan, the Dawn reported.
No journalist was killed in Sri Lanka, Bhutan and the Maldives, but media persons there continued to face professional challenges and hazards, the report said.
Despite a UN Security Council resolution that stresses the need to protect journalists in dangerous areas, their physical security remained a major issue and one of the biggest threats to freedom of expression in most of south Asia.
Those killed in Pakistan included Saqib Khan (Ummat), Rehmatullah Abid (Dunya), Mushtaq Khand (Dharti TV), Abdul Haq Baloch (ARY), Abdul Qadir Hajizai (Wash TV), Razzaq Gul (Express News), Mohammad Amir (ARY) and Aurangzeb Tunio (Kawaish TV).
The report deplored the government's failure to introduce a reformed Access to Information law and repeal of other laws and regulations hampering media freedom.
It terms a draft law as prohibitive and unacceptable to the media.
It also criticised the government's inability to deregulate the corporations running the state-owned media — Radio Pakistan and Pakistan Television.
The report demanded that these organisations be made autonomous.
IANS
Latest Headlines in Sri Lanka