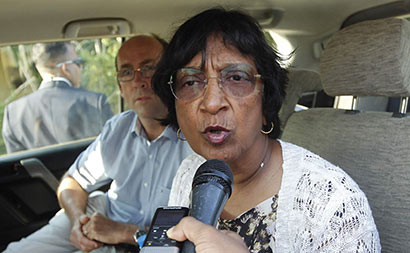 The visiting UN Commissioner for Human Rights Navaneetham Pillay had no right whatsoever to dictate how Sri Lanka should organise its defence affairs; they would flatly reject it if she had the temerity to do so, the government said yesterday.
House Leader, Minister Nimal Siripala de Silva addressing the UPFA weekly news briefing at the SLFP Headquarters said Sri Lanka had given permission to Pillay to visit Sri Lanka, travel anywhere and talk to any individual, group or organisation on her fact-finding effort freely and file her report at the next meeting of the UNHRC.
Responding to a journalist on the reported concern of Pillay on the occupation of some lands in the North by the military and her intention to demand President Mahinda Rajapaksa to release them to the owners when she met him in Colombo, Minister de Silva reiterated that she had no right to do so.
"Ms Pillay has visited Sri Lanka on the invitation extended to her by the government for a specific job. That is to see for herself whether what the government said right throughout on rehabilitation, reconstruction and reconciliation was correct or not. She has a role to play here but she has no right to give orders to Sri Lanka. The government would reject outright if she gave such orders," Minister de Silva emphasised.
However, Minister de Silva conceded that Ms Pillay's visit was a positive development as the government expected that the allegations levelled against Sri Lanka by the Tamil Diaspora, a section of the international community and other detractors would prove baseless once she herself realised the true situation – in the North in particular – and in Sri Lanka at large and compile her report to the next UNHRC caucus in Geneva.
"I do not think anyone can level allegations on the alleged violation of human rights, disappearances or abduction as Ms Pillay can independently check on them firsthand during her stay in Sri Lanka," he added.
Minister De Silva said the government issued the visa to Ms Pillay to visit Sri Lanka and provided all facilities for her to visit any part of the country and have one-on-one interaction with anyone as Sri Lanka had nothing to hide or suppress from her.
"If the government refused her the visa our enemies would say we did it because we had much to conceal. Her visit to Sri Lanka would change the picture drawn by the enemies of Sri Lanka."
Commenting on President Rajapaksa's official visit to Belarus, Minister de Silva said he would meet Ms Pillay and have a cordial chat with her, but the media and the opposition had given a different interpretation to the President's Belarus visit somewhat overlapping Ms Pillay's visit.
"So many foreign diplomats and dignitaries come and go; it is not mandatory that President Rajapaksa must entertain all of them and talk to them. The visit of Ms. Pillay is not extraordinary and she is here of her own will and has her own fact finding mission. The government has no objection to it in anyway, Minister de Silva said.
(Courtesy: DM Online)