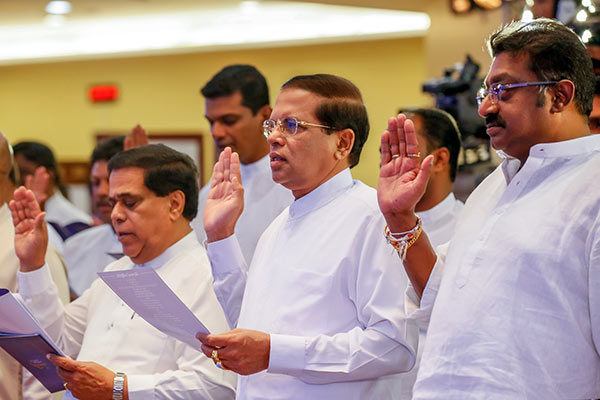 President Maithripala Sirisena said he will not consider political differences or relative relationships in his journey to build a clean and pure political culture for the future of the nation.
The President was speaking at the launching ceremony of the 'Nidahase Sammuthiya' (Pledge for Freedom) with the participation of leaders and representatives of 31 political parties affiliated to the United People's Freedom Alliance (UPFA) for the upcoming elections at the BMICH yesterday.
The 'Pledge for Freedom' for good governance free of fraud and corruption was presented to the Maha Sangha including others religious leaders by the President.
President Sirisena said that through this Local Government election the SLFP expects to create a sincere, novel political faction which does not bow down to the fraud, corruption and waste as well as who loves the motherland and its people and said that by selecting clean and honest persons who are suitable for a clean people centric political movement, we should mark the approach of building a good government in the future.
The President also said that no person in the field of politics can have a personal agenda, but everyone should have a common agenda for the future of the country, nation and the people.
"The ability to hold the Local Government elections under the new mixed electoral system is a great achievement, and the approach to a good political culture will be achieved through this system, the President said that recalling the struggle made for this during the past two years within the government as well as in the opposition.
The 'Pledge for Freedom ' declared by the United People's Freedom Alliance is a concept for the betterment of the country and the nation, as well as for the future generations.
The President said that adding through this concept, a group of people necessary for a clear political vision and a clean political movement will emerge in the country.
The President also emphasised the dedication of all who are in the election campaign to conduct the campaign in an exemplary manner which follows the elections rules with great discipline.
UPFA General Secretary Minister Mahinda Amaraweera presented the vow for the Pledge for Freedom and all of them jointly took their oaths.
The Maha Sangha including Most. Ven. Kotugoda Dhammawasa Mahanayake Thera of the Amarapura Chapter, other religious leaders, SLFP Senior Vice President, Minister Nimal Siripala de Silva, Minister Susil Premajayantha and other senior party members were also present.
(Source: Daily News)