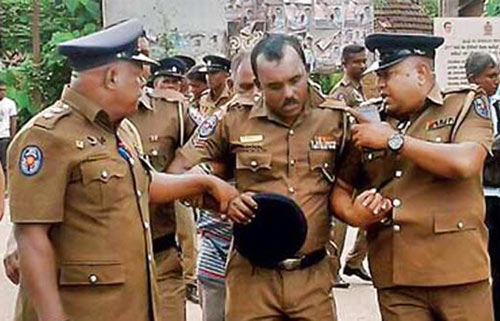 Hours after President Maithripala Sirisena met and donated Rs.1 million to the family members of Police sergeant Sanath Gunawardena who was suspended following his violent behavior with a T-56 in the Thebuwana area on October 3, he has been reinstated by Inspector General of Police (IGP) Pujith Jayasundara last evening.
A lorry transporting sand had been taken into custody by the Sergeant on September 29, however the Officer-in-Charge (OIC) of the Thebuwana Police Station had released the lorry the following day, stating that the vehicle did have a valid permit to transport sand.
In protest of this decision, the Sergeant who is attached to the Thebuwana Police Station had arrived at the Thebuwana Junction along with the T56 assault rifle and refused to budge from spot.
The Sergeant was arrested following his violent behavior on October 4 and suspended from duty.
The police officer had reportedly spent some 6 months in the custody of the LTTE during the time of the war.