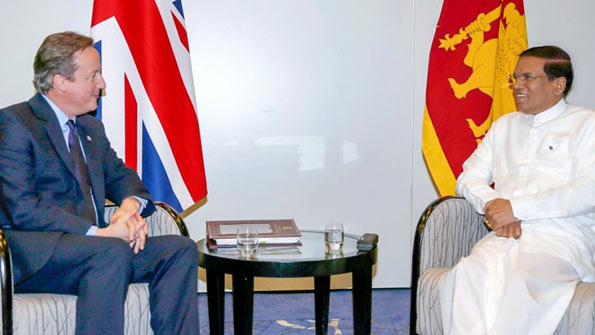 British Prime Minister David Cameron expressed deep appreciation for the steps taken by President Maithripala Sirisena in the last 10 months to strengthen democratic values, human rights and reconciliation. He said Britain is ready to provide additional assistance to Sri Lanka to carry forward these tasks.
President Sirisena and PM Cameron held a bilateral discussion on the sidelines of CHOGM, 2015 in Malta on November 27.
President briefed Mr Cameron about the steps taken by the government to strengthen democratic institutions, constitutional amendments, reconciliation and the proposed new constitution.
British Premier also offered to help for development activities and reconciliation progarmmes in Sri Lanka. He said the benefits of the transformation in Sri Lanka should reach the people.
Meanwhile, French President Francois Hollande and UN Secretary General Ban ki Moon also attended the Climate Session of the CHOGM in Malta, where President Sirisena and other Commonwealth leaders discussed the climate change issue.
Addressing media later, French President said that despite the "terrible incidents in Paris", he insisted on attending the Commonwealth Heads of Government Meeting in Malta to discuss climate change.
He was addressing a press conference at the Golden Sands resort where Commonwealth leaders are agreeing on an action plan on climate change.
Mr Hollande said the UN climate summit was being held in Paris next week and he would not let terrorist attacks stop leaders from meeting round a table to discuss the matter.
"Man is man's worst enemy. We have seen this with terrorism and we have seen it also with climate change," he said.
Mr Hollande said he hoped the British House of Commons would support his call for military action in Syria.
On the upcoming UN summit, he said that while he feared certain states may delay an agreement, he hoped for overall consent.
Meanwhile, Baroness Patricia Scotland was elected secretary general of the Commonwealth at the Commonwealth summit in Malta by leaders of the 53-nation bloc. She was one of three contenders for the post and will officially take office in April next year as the sixth Commonwealth secretary general. Born in Dominica, the 60-year-old, is a former attorney general in Britain and will be the first woman to occupy the post.
Ms. Scotland and the other contender, Mmasekgoa Masire-Mwamba from Botswana, are the only two women to have ever contested the Commonwealth's top post. The third candidate was Sir Ronald Sanders from Antigua and Barbuda. The election took longer than expected with sources describing a hot contest between the two women.
Maltese Prime Minister Joseph Muscat said after a "thorough discussion" Baroness Scotland enjoyed "unanimous support". In her first comments she said it was "a huge privilege" to occupy an important role. "The 53 countries have within them the ability and capacity to create something the world desperately needs."
(Government News Portal)