President assures pension for Civil Defence Dept members
Posted by Editor on January 20, 2012 - 7:35 am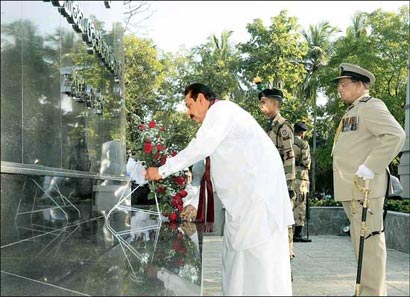 The government will take measures to grant a pension to Civil Defence Department members, President Mahinda Rajapaksa said .
President Rajapaksa was addressing a gathering in Mihintale, Anuradhapura yesterday afternoon while participating in an event to unveil a War Heroes memorial statue.
"All members of the Civil Defence Department will be entitled to the pension as a mark of gratitude for their invaluable service by safeguarding the country during the humanitarian mission.
"As a result of the collective effort of the Security Forces' personnel, everyone is living peacefully with dignity. Though we have created a peaceful atmosphere, there are certain elements, trying to ruin this peaceful situation," the President said.
"The people who were responsible for mass killings and various other terrorist activities are in foreign countries. They are trying to create devastation again in the country in the form of terrorism. Therefore, the people who love peace and harmony have to be vigilant. During the 30 year terror period, people were not able to experience democracy. As a result of the war, the country went backwards by 30 years. The government and the people are duty bound to drive the country forward. As a people- friendly government, this government is engaged in serving and developing the entire country," the President noted.
"LTTE supporters abroad are misleading the younger generation spreading various false propaganda. This generation has never come to Sri Lanka. They do not even know where Jaffna is. "These LTTE supporters cultivate hatred in the minds of the younger generation.
"Therefore, we have to save the victory achieved by eradicating terrorism," the President said.
"It is our duty to re-establish the past glory of the country which was lagging behind for 30 years due to terrorism," he said.
Courtesy: Daily News
Latest Headlines in Sri Lanka