'President said "No" to Cabinet pay hike'
Posted by Editor on January 20, 2012 - 7:31 am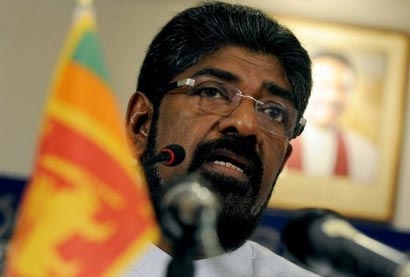 'The salaries of Cabinet ministers and Supreme Court judges should be on the same scale according to the constitution but the salary increase was given only for judges. No salary increase was given to ministers. President Mahinda Rajapaksa said 'no' to such an increase, Cabinet Spokesman and Mass Media and Information Minister Keheliya Rambukwella said.
"A worker attached to a certain corporation gets a salary of around Rs. 69,000, including all allowances and other payments," he said. Addressing the weekly Cabinet press briefing at the Government Information Department Auditorium yesterday, Minister Rambukwella said that the government has already held serious negotiations with the three institutions and came to a clean cut position to offer them a flat rate (a salary increase of 25 percent).
The government is responsible to keep this agreement and add the agreed amount to their basic salaries.
According to Minister Rambukwella the majority of workers attached to these corporations are sensible and understand the reality, but there are a few extremist elements. If the 20 million Sri Lankan population are forced to pay more for a staff of around 30,000 in these corporations, it will boomerang on those employees. The tradition was increasing their salaries every three years. Should the whole country pay more for their light and water bills in order to pay a higher salary for a staff of 30,000 employees? questioned the minister. The government will take all alternatives if these corporations decide to go ahead with the strike. Sri Lanka has no power cuts. But many other countries in the region, such as, India, Pakistan, Bangladesh and Nepal have power cuts. Bhutan has an eight hour power cut.
Responding to a question by a journalist, Minister Rambukwella pointed out that as of now Sri Lanka imports oil from Iran. Sri Lanka is a member country of the Non Alligned Movement. The US requested the whole world not to import Iranian oil and the request was not made only from Sri Lanka.
Courtesy: Daily News
Latest Headlines in Sri Lanka