President meets Chilean, Bhutanese Leaders
Posted by Editor on June 22, 2012 - 1:27 pm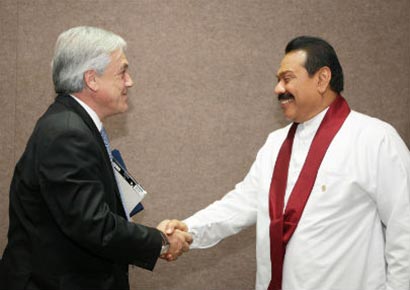 President Mahinda Rajapaksa in Brazil to attend the United Nations Conference on Sustainable Development, Rio+20, met the President of Chile Sebastian Pinera and Bhutan's Prime Minister Jigme Thinley at Rio de Janeiro on Wednesday. President Rajapaksa and President Pinera engaged in talks on the sidelines of the conference.
One of the topics discussed was the highly successful canned fish industry in Chile. President Rajapaksa voiced interest in obtaining Chilean expertise to develop Sri Lanka's own canned fish industry.
On the subject of politics, President Rajapaksa whilst briefing the Chilean President on false propaganda carried out against his country internationally also invited President Pinera to visit Sri Lanka to witness first hand the truth and prevailing situation.
The President on the occasion pointed out to the Chilean President that Sri Lanka was on the march towards development since defeating the scourge of terrorism which plagued the country for nearly three decades.
He also made the Chilean President aware about the government efforts to rebuild the conflict affected areas and socio-economic development of the conflict affected people.
Speaking on the long standing cultural ties between the two nations, President Rajapaksa reminded President Pinera about the poems written by Chilean poet Pablo Neruda about Sri Lanka.
President Rajapaksa also met the Prime Minister of Bhutan Jigme Thinley. Here Premier Thinley described to the President how his country developed a 'Happiness Index' following a UN programme on the above subject.
The two leaders discussed ways of developing such a programme in Sri Lanka with Bhutanese assistance. The Bhutanese PM on the occasion also shared information with President Rajapaksa on the upcoming elections in Bhutan. The Premier pointed out that as in Sri Lanka, there was an inclination by youth to join politics in Bhutan and described it as a positive trend. Ministers G.L.Peiris, Wimal Weerawansa, Anura Priyadarshana Yapa, Patali Champika Ranawaka, Mahinda Amaraweera and Secretary to the President Lalith Weeratunge also took part in the discussions.
Source: Government News Portal
Latest Headlines in Sri Lanka