President moves to stabilize Polonnaruwa
Posted by Editor on November 24, 2014 - 7:15 am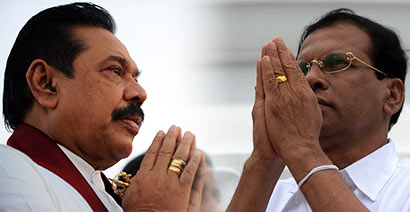 Following Polonnaruwa District MP and SLFP General Secretary Maithripala Sirisena's decision to challenge President Mahinda Rajapaksa at the forthcoming presidential election, the latter yesterday addressed all elected UPFA representatives in the Polonnaruwa District.
President Rajapaksa received an assurance from UPFA representatives they would stand by the SLFP leader.
UPFA parliamentarians and Pradeshiya Sabha members representing the Polonnaruwa District as well as Polonnaruwa District members of the UPFA-run North Central Provincial Council were quoted as having told the President there was no one else who could match his leadership.
They called upon the country to rally around President.
The meeting was held at the Central Bank holiday bungalow near the Somawathie Temple.
The President said the Opposition with the help of a disgruntled group of SLFPers was planning to destabilise post-war Sri Lanka on the pretext of getting rid of him.
Among those present on the occasion were Minister C.B. Ratnayake, Deputy Minister Siripala Gamlath and Chandrasiri Sooriyaarachchi, MP Roshan Ranasinghe and Provincial Minister Punchibanda Ratnayake.
Responding to a query, SLFP sources alleged that the rebel group was making a determined bid to effect crossovers in Parliament as well as Provincial Councils and local government authorities. Some members of the UPFA-run Uva and Western Provincial Councils had been approached, they said.
The SLFP has been engaged in a special effort to thwart MP Sirisena's attempts to win over UPFA representatives in his stronghold Polonnaruwa and Anuradhapura, sources said, adding that former North Central Province Chief Minister Berty Premalal Dissanayake's son, Duminda Dissanayake was spearheading the effort there. President Rajapaksa stripped Duminda Dissanayake of deputy minister's post last Friday after he joined Sirisena at a media briefing held at the New Town Hall.
Meanwhile, Sirisena met senior UNPers at the Opposition Leader's Office immediately after the media briefing. Sources quoted Sirisena as having said that he would continue to call the UNP National leader, 'Sir' as he had been doing in the past even after becoming president because he always respected his teachers.
(Courtesy: The Island)
Latest Headlines in Sri Lanka