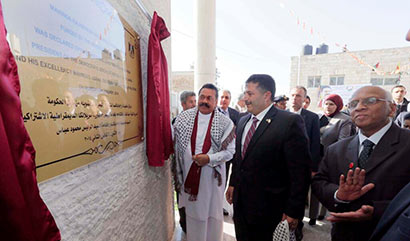 President Mahinda Rajapaksa, on Monday (Jan. 06) opened the Mahinda Rajapaksa Vocational Training Centre in Betunia, Palestine. President and First Lady Shiranthi Wickremasinghe Rajapaksa, who were accompanied by Palestinian Foreign Affairs Minister Mr. Riyad Al-Maliki were received by the Mayor of Betunia His Worship Ribhi W. Dola and the Governor of Ramallah Dr. Laila Ghammam.
"You're contributing to the livelihoods of Palestinians and for building a good future for them so thank you very much for that," said Palestinian Foreign Affairs Minister Maliki speaking at the opening event. "It's remarkable to see a president of another country dedicate so much of his energy to another cause."
The vocational training center is being funded by the Government of Sri Lanka, which also donated books and computers to the Betunia Municipal Library. Officials will now work on further developing the training center by establishing training programs in areas that Sri Lanka has expertise such as the tourism sector.
Calling President Rajapaksa "a special, special, special guest," the Palestinian Foreign Affairs Minister said the President's visit is "historic in all its dimensions."
"It reflects a milestone in the special relationship between Sri Lanka and Palestine," Mr. Maliki said. Representatives of the Betunia Municipality and members of the Sri Lanka-Palestine Friendship Society were gathered at the event to welcome President Rajapaksa and the First Lady.
"Thank you for taking the time not only for coming but to interact with the Palestinian people, not only to see their suffering but also their strength and determination," Foreign Affairs Minister Maliki said. "Thank you for your solidarity, your support and your love for Palestine."
Following the opening of the training center, President Rajapaksa arrived at the Betunia Municipality Park to plant an olive tree. Afterwards, the President and the First Lady visited the Sri Lanka Representative Office and saw the road name after the President, which is located opposite the Representative Office. The road was named "H.E. Mahinda Rajapaksa Road" in November 2007 in appreciation of President Rajapaksa's work as the Founder President of the Sri Lanka Committee for Solidarity with Palestine.
Minister of External Affairs Prof. G. L. Peiris, Monitoring MP of the Ministry of External Affairs Mr. Sajin de Vaas Gunawardena, Parliamentarians Mrs. Kamala Ranatunga and Mr. Roshan Ranasinghe and Secretary to the President Mr. Lalith Weeratunga were also present.
(Courtesy: President Media)