President Rajapaksa participates former US President Bill Clinton's CGI-2011
Posted by Editor on September 21, 2011 - 9:19 am

Onlanka News – By Janaka Alahapperuma
(Pix by: Sudath Silva)
President Mahinda Rajapaksa attended the Annual Meeting of the Clinton Global Initiative- 2011 (CGI- 2011) at the Sheraton New York Hotel and Towers in New York Tuesday on 20 September. President Rajapaksa, who is in New York to attend the 66th annual session of the United Nations General Assembly, also participated the Seventh Annual Meeting of the CGI which is being held from 20th to 22nd September in New York.
The Sri Lankan President received a warm welcome from the former President of the United States and the founder of the CGI, Bill Clinton at the opening plenary session of the event. The Clinton Global Initiative Annual Meeting is an invitation only event held in September in New York City for heads of state, chief executives of world renowned companies, directors of major charities and non-profitable organisations and other global leaders.
It is one of the many largest international bodies connected in to line up positive action plans for Political, Social, Economic Development and environmental issues in the developing and third world countries. The present focus of the CGI is in the sectors of Education, Health, Poverty Alleviation and Climate Change. Leaders and law makers from around the world share their effective strategies for addressing the global issues in the world.
This year's plenary session hosted by former US President Bill Clinton and co-chaired by President of Mexico felipe Calderòn and South African President Jacob Zuma.
Meanwhile former President of Sri Lanka, Chandrika Kumaratunga who is a Member of the Advisory Board of the Poverty Alleviation Group of the Clinton Global Initiative also in New York to participate the event. She has been attending CGI's annual sessions since 2006.
Sri Lankan delegation headed by President Mahinda Rajapaksa arrived in New York yesterday, 19 September. They were received by Ambassador and Permanent Representative of Sri Lanka to the United Nations Dr. Palitha Kohona and Deputy Permanent Representative Major General Shavendra Silva. The President is joined by First Lady Shiranthi Rajapaksa, Minister of External Affairs, Prof G.L.Peiris, Sajin Vass Gunawardena MP and Secretary to the President Lalith Weeratunga.
President Rajapaksa is due to address the 66th UN General Assembly on Friday 23 September.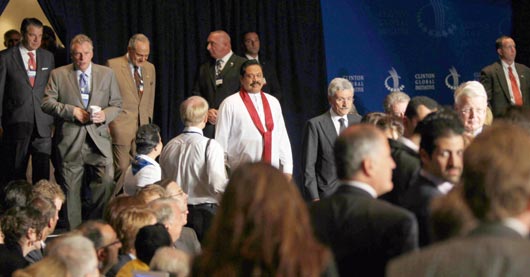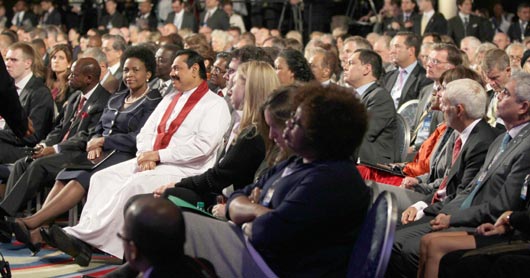 Latest Headlines in Sri Lanka