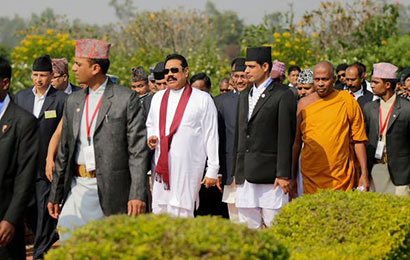 Soon after arriving in Nepal, President Mahinda Rajapaksa visited Lumbini – the birthplace of the Lord Buddha – one of the most sacred places for Buddhists.
Though it's not the President's first time in Lumbini, he did participate in a number of events, with particular significance to Sri Lankan Buddhists.
President Rajapaksa first visited and prayed at the Maya Devi Temple, named after Queen Maha Maya, Lord Buddha's Mother. Dating back to 623 B.C., this Temple houses the exact birthplace of Lord Buddha. Situated at the foothills of the Himalayan mountain range, the Maya Devi Temple was added to the list of UNESCO Heritage Sites in 1997.
After the President prayed at the Temple, he attended a welcome ceremony organised by the Lumbini Development Trust. Officials speaking at the function said they appreciated President Rajapaksa's "keen personal interest and contribution to the development of Lumbini."
"We pray for your happiness, prosperity and longevity," a representative of the Trust said. "We are really very much grateful for the remarkable visit."
On the way to the Sri Lankaramaya Temple, President Rajapaksa declared open a newly constructed bridge at Gate No. 4. The bridge was built by the Sri Lankan Government as a service to pilgrims who visit the site, because using the route along which the bridge is located provides the shortest path to the Maya Devi Temple as well as the Sri Lankaramaya Temple. The bridge was build at a cost of Rs. 34 million.
At the Sri Lankaramaya Temple, President Rajapaksa worshipped the Sacred Bo Tree and spent some time speaking with the priests and Sri Lankans who had come to welcome the President. This Temple was also built by the Sri Lankan Government. President Rajapaksa visited Lumbini in 2009 to inaugurate it. In addition to providing a service to devotees both from Sri Lanka and other countries who visit Lumbini, this temple has a specific purpose of working towards the propagation of Theravada Buddhism throughout the world.
The fourth stop on President Rajapaksa's visit to Lumbini was the Lumbini Buddhist University (LBU) to open a new administrative building. The Vice Chancellor of LBU Rev. Prof. Naresh Man Bajracharya welcomed the President and briefed him on the activities of the University.
"We would like to express grateful appreciation for the kind cooperation and look forward to the continuation and consolidation of the cooperation," Prof. Bajracharya said. "I, on behalf of LBU, would like to welcome you to LBU and express heartfelt gratitude for your visiting LBU today."
The President's final stop consisted of opening the newly renovated Dutugemunu Pilgrims Rest. Built in 1989, the facility had required refurbishment for quite some time. The Sri Lankan Government stepped in to assist in the renovation, which was completed at a cost of Rs. 138 million.
Monitoring MP of the Ministry of External Affairs Mr. Sajin de Vass Gunawardena accompanied the President on the Lumbini visit.
(President Media)