Sri Lanka election monitors urge end to poll violence
Posted by Editor on November 26, 2014 - 7:35 am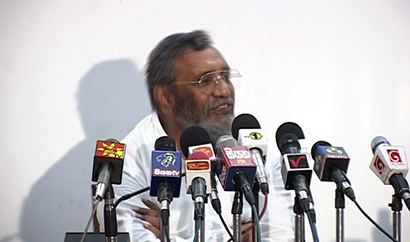 Sri Lanka's elections chief and pro-democracy activists on Tuesday urged police to stem a spate of campaign-related violence that has flared since President Mahinda Rajapakse declared his re-election bid.
Commissioner of Elections Mahinda Deshapriya said he had asked police to bring to justice those responsible for two shooting incidents since Friday, involving government supporters and backers of the main opposition candidate Maithripala Sirisena.
"I have asked police about these incidents, I have told them to take action against offenders," Deshapriya said.
"I seek the cooperation of political parties to ensure a trouble-free election.
"It is also the responsibility of candidates to restraint their supporters."
Deshapriya said he was hoping to invite Commonwealth, European and Asian observers to monitor the election campaign.
The Campaign for Free and Fair Elections (CaFFE), which is a private pro-democracy pressure group, said it feared an escalation of violence in the run-up to the January 8 vote that is being held only five days before Pope Francis is due to visit the island.
"There had been at least five major incidents involving the use of firearms and swords," CaFFE chief Keerthi Thennakoon told AFP.
"At least six people were injured and one of them is still in intensive care because he was shot in the head.
"This is a very dangerous trend because it takes place even before candidates submit their nomination papers (on December 8)," he added.
Police confirmed there had been poll-related violence but said investigations were underway.
Sirisena, who was sacked as Rajapake's health minister after his shock defection to the opposition last Friday, has vowed a peaceful campaign.
Three other ministers have also jumped ship to the opposition in a major blow to Rajapakse's prospects of securing a third term in office.
Rajapakse, the longest serving leader in South Asia, called the election two years ahead of schedule in an apparent bid to seek a fresh mandate before his party's popularity tumbles further after dropping over 21 percent in September local elections.
While Rajapakse remains generally popular with voters from the Sinhalese majority after he oversaw the end of a 37-year war against Tamil separatists in 2009, critics say he has become increasingly authoritarian.
(AFP)
Latest Headlines in Sri Lanka