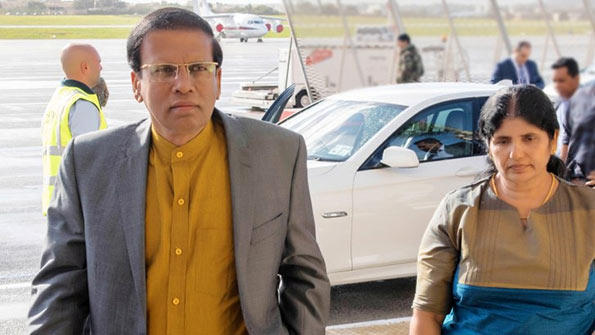 President Maithripala Sirisena arrived in Malta Thursday morning (Nov. 26) to attend the Commonwealth Heads of Government Meeting (CHOGM) – 2015, to be held at Fort St. Angelo in Birgu from November 27-29. He was accompanied by Madam Jayanthi Sirisena and several officials.
President Sirisena, who is the current Chair-in-Office in the Commonwealth, was received at the Malta International Airport by senior officials of Malta Government and the Commonwealth.
The President is to hand over the position of Chair in Office of Commonwealth to the Prime Minister of Malta Mr. Joseph Muscat.
Meanwhile the Finance Minister of Malta, Edward Scicluna announced the establishment of a new Commonwealth fund initiative for providing Trade Financing Facility to smaller members of the Commonwealth. Four countries – Sri Lanka, India, Mauritius and Malta joined this fund initiative.
Minister Scicluna said this step was taken as a part of the proposal made in the Kotte Statement issued at the end of the Colombo CHOGM 2013.The Statement proposed to develop practical measures to promote trade flows to address the issue. This was aimed at overcoming constraints to trade faced by smaller states of the Commonwealth.
A working group comprising representatives from leading institutions in emerging markets trade finance was formed to assess the feasibility of developing and implementing Commonwealth trade Finance facility. Initially this will aim at a funding of US$ 20 million.
Meanwhile the CHOGM is examining the potential candidates for the post of Secretary-General for the 53-member association. Dr kamlesh Sharma will complete his tenure with the CHOGM 2015.
Meanwhile Ministers, Mangala Samaraweera and Sagala Ratnayake participated in CHOGM Foreign Ministers Meeting and Economic Forum respectively. The Summit will commence tomorrow, The President's Media Unit said.
(Government News Portal)