Protect Tamils, Modi to Sri Lanka
Posted by Editor on May 28, 2014 - 11:01 am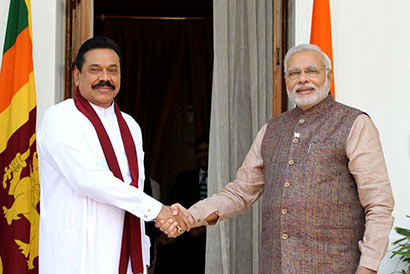 NEW DELHI: India has agreed to release 85 Sri Lankan fishermen who are lodged in different jails in Odisha and Andhra Pradesh. This was conveyed to Sri Lanka president Mahinda Rajapaksa when he met Prime Minister Narendra Modi here on Tuesday morning. In a good will gesture, the Sri Lankan government had released all the Indian fishermen in their custody before Rajapaksa's visit.
The key issues of rehabilitation and reconstruction and the 13th amendment was the subject of conversation between the two leaders. "He (Modi) requested the government of Sri Lanka to expedite the process of national reconciliation in a manner that meets the aspirations of the Tamil community for a life of equality, justice, peace and dignity in a united Sri Lanka," Foreign Secretary Sujatha Singh recounted later.
The conversation covered areas of crucial security cooperation between Sri Lanka and India. The two countries, along with Maldives form a trilateral grouping on security and intelligence in the Indian Ocean, a move that sources say, has been very successful. The trio recently invited Mauritius to join the grouping.
While Rajapaksa could not bring the chief minister of Northern Provinces, Vigneswaran with him. He did bring along Jaffna's Tamil Mayor Yogeshwari Pathkunarajah to Monday's ceremonyat the oath taking ceremony of Narendra Modi as India's prime minister Monday.
(The Times of India)
Latest Headlines in Sri Lanka