Provincial Council Election – 2013: Voters allowed to vote 'outside' polling stations
Posted by Editor on July 16, 2013 - 8:10 am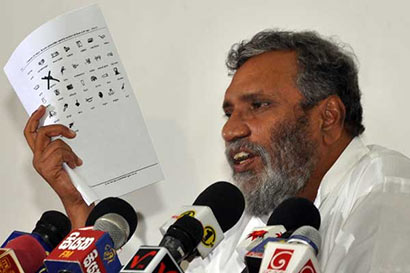 Steps have been taken to enable voters to cast their ballot at any polling station other than the polling station in the polling division where they are registered, Elections Commissioner Mahinda Deshapriya said in a release yesterday.
The release added: "It is hereby announced that electors, who are unable due to reasonable fear to vote at the polling station where he is registered, can apply for permission to vote at another polling station and that arrangements can be made for them to vote accordingly, in terms of Section 125A of the Provincial Councils Elections Act No. 2 of 1988 as amended by Provincial Council Elections (Amendment) Act No. 7 of 1993.
"The relevant section is as follows: 125 A (1) Notwithstanding the provision of any other law, any registered elector who is compelled by conditions prevailing in the area within which his polling station is situated to reside outside such areas, and who reasonably fears that he would be unable to cast his vote at such polling station may make an application to the Commissioner of Elections within one week of the notice of nomination, requesting that he may be allowed to cast his vote at another polling station determined by the Commissioner, in his absolute discretion.
"Such electors may submit their applications within seven days of the date of the nomination notice to the Elections Secretariat, Sarana Mawatha, Rajagiriya or to the District Elections Office in the district where the elector is resident. Application forms should be completed accurately based on the Electoral Register for the year 2012. These registers are available at the Elections Secretariat, Rajagiriya and at District Elections Offices.
"The Grama Niladhari of the area in which the applicant is resident should certify the accuracy of the data in the application. Printed application forms can be obtained free of charge from the Divisional Secretariats or the offices of the Grama Niladharis.
"In order to prevent the difficulties in submitting the applications before the last date the period of acceptance of applications has be extended till August 12, 2013.
"It is further notified that the duly completed application should be sent to reach the Elections Secretariat, Sarana Mawatha, Rajagiriya or the District Elections Offices where the elector is resident on or before August 12, 2013."
Courtesy: Daily News
Latest Headlines in Sri Lanka