Rajapaksa to meet Sirisena today
Posted by Editor on May 6, 2015 - 7:32 am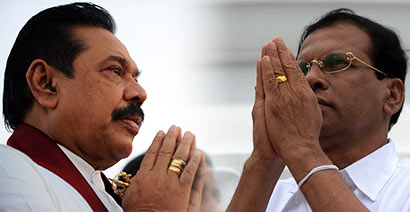 Sri Lankans are waiting with bated breath for the outcome of crucial talks between President Maithripala Sirisena and his predecessor, Mahinda Rajapaksa, scheduled for Wednesday.
The two estranged leaders of the ruling Sri Lanka Freedom Party (SLFP) are expected to discuss a range of ticklish political issues. Rajapaksa's demands include an end to "victimisation" of his supporters through "politically-driven" police investigations into charges of corruption and dropping the idea of forming a national government with the opposition United National Party (UNP).
The Sirisena camp is expected to make an attempt to allay Rajapaksa's fears without committing itself to anything concrete.
President Sirisena is aware of the potential threat from Rajapaksa. He had earlier said had he lost the presidential election, he would have been "six feet under the ground".
However, Sirisena feels compelled to lend an ear to many in the SLFP who think that Rajapaksa should be accommodated because he is still popular among the Sinhalese-Buddhist rural voters.
(Dawn)
Latest Headlines in Sri Lanka