Ravi Karunanayake gets The Banker's title as Best Finance Minister of Asia Pacific
Posted by Editor on March 27, 2017 - 7:43 am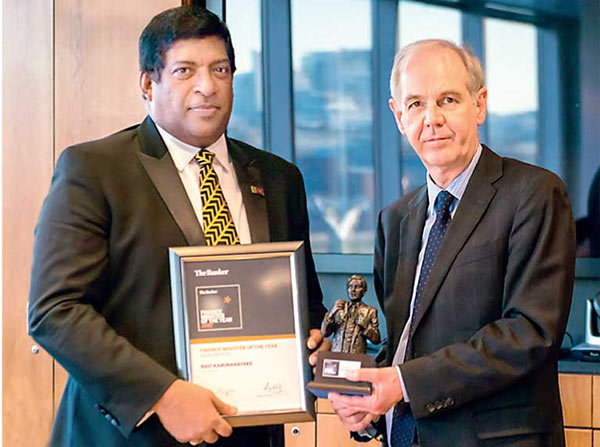 Finance Minister Ravi Karunanayake said yesterday that the financial discipline of Sri Lanka had been recognised internationally with the selection of him as the Best Finance Minister of the Asia Pacific region by prestigious London-based international financial magazine The Banker.
The Minister pointed out that the award was not his personal victory but an achievement for the entire country. The current economic program being continued under the guidance of President Maithripala Sirisena and Prime Minister Ranil Wickremesinghe has been recognised internationally and The Banker award has documented this achievement well. He said international confidence in Sri Lanka's economic journey has been built further and as a result the entire country can be optimistic about the future.
"This award was given in recognition of the policy planning taken by the country to strengthen its economy under the able guidance of President Maithripala Sirisena and Prime Minister Ranil Wickremesinghe. At the same time, all Cabinet ministers who supported me in this effort should be remembered at this moment. The Banker magazine, which observed how our economy is handled by financial discipline, decided to confer this award. I think this is a good opportunity for Sri Lanka to go forward. Therefore this award will bring optimistic hopes for a better future for all Sri Lankans," Karunanayake said.
The award ceremony was held at the headquarters of The Banker in London on 24 March. Finance Minister Karunanayake received the award from the Chief Editor of The Banker Brian Caplen.
The award was conferred on Karunanayake for his efforts to take the country towards new economic reforms and change public attitudes in support of such goals.
In a statement the Finance Ministry said the award from The Banker magazine was conferred in recognition of Karunanayake's successful efforts to manage the country's economy and for bringing the economy to a sustainable level.
The magazine points out that the Finance Minister was able to prevent the financial crisis which had loomed due to a balance of payments crisis and restore the country's monetary reserves, thereby rebuilding confidence in foreign investors.
Several officials attached to Sri Lankan High Commissioner in Britain – led by High Commissioner Amari Wijewardana – and Mrs. Mela Karunanayake were present at the event.
(Source: FT.LK)
Latest Headlines in Sri Lanka