Ravi, Wijeyadasa tipped to receive Cabinet posts
Posted by Editor on April 28, 2018 - 8:10 am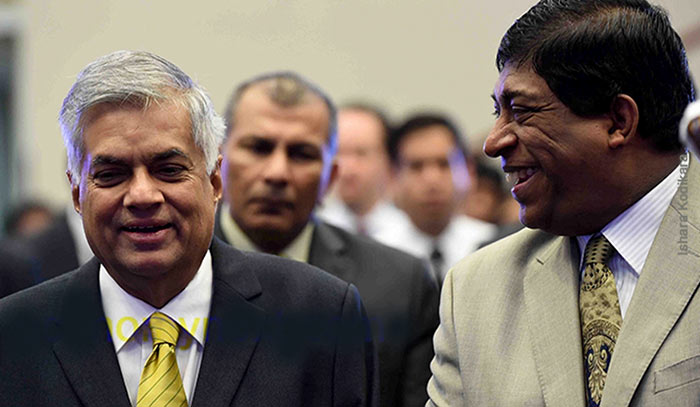 Speculation is rife in political circles that the government is planning to accommodate former finance/foreign and justice ministers, Ravi Karunanayake and Wijeyadasa Rajapakse, respectively, in the Cabinet.
Karunanayake quit in Aug 2017, owing to the findings of a presidential probe into the bond scams and Rajapakse was removed, in Aug 2017. He was accused of violating collective Cabinet responsibility when he criticised the Hambantota port deal with China.
Political sources said that the recent UNP Working Committee-Parliamentary Group decision to re-appoint Karunanayake as the Assistant Leader of the party, in spite of opposition from WC member and former Speaker Joseph Michael Perera and MP Ranjan Ramanayake had cleared the way for re-appointment of Karunanayake.
At the time, Karunanayake quit in Aug 2017, he had served as the foreign minister since May 2017. Sources pointed out that former Attorney General Tilak Marapana, PC, who had resigned Cabinet portfolio over accusations regarding links with Avant Garde Maritime Services (AGMS) was accommodated in the cabinet in August 2017. Marapana succeeded Karunanayake.
Sources said Karunanayake and Rajapakse wouldn't receive the portfolios they had previously held.
Marapana is expected to continue as the Foreign Minister.
Development Strategies and International Trade Minister Malik Samarawickrema is also expected to retain the same portfolios, though he is under fire from some professional organizations.
Sources said that the UNP still believed the war winning Army Commander and Regional Development Minister Field Marshal Sarath Fonseka should be given Law and Order portfolio, currently held by Ranjith Maddumabandara.
Maddumabandara took over the Law and Order ministry from Prime Minister Ranil Wickremesinghe on March 8, 2018. Wickremesinghe temporarily held those portfolios after Sagala Ratnayake had relinquished them on Feb 25, 2018 ahead of a Cabinet reshuffle.
Sources said that the government wanted to finalise the appointments before President Sirisena delivered his policy statement in Parliament on May 8 afternoon.
Before the six SLFP Ministers quit the Cabinet early this month in the wake of abortive bid to oust PM Wickremesinghe through a No Confidence Motion, the Cabinet comprised 45 ministers, including the PM. As the leading partner, the UNP had 31 ministers.
The 16 former SLFP Ministers, Deputy Ministers, State Ministers and former Deputy Speaker Thilanga Sumathipala) have told the SLFP that they wouldn't accept Cabinet portfolios.
Sources said Mangala Samaraweera, too, would continue in his current finance portfolio.
Several weeks ago, President Sirisena brought the Central Bank of Sri Lanka (CBSL) which was under PM Wickremesinghe under the Finance Ministry by President through a Gazette extraordinary.
The Securities & Exchange Commission (SEC), which was also under the PM, too, has been brought under the Finance Ministry by President through Gazette Extraordinary.
(Source: The Island – By Shamindra Ferdinando)
Latest Headlines in Sri Lanka