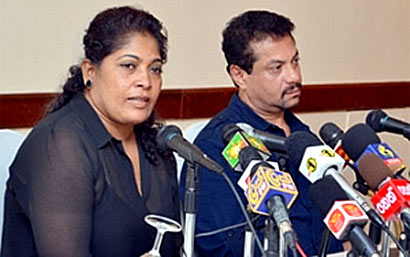 Popular artiste Rukantha Gunathilake said yesterday the real culprits who harassed him and his wife Chandralekha Perera were the ones who gave the order.
He said the individual who gave the order is moving freely, while the persons who executed the order were punished. Addressing a press conference in Colombo, Gunathilake and Chandralekha Perera said they forgive those who were punished recently for their involvement in the incident of harassing them at their house in Mattegoda in 2000. Gunathilake said as the command came from a very powerful and influential person at that time, the subordinates inevitably had to obey it.
However, he said they respect the court verdict and consider that they were meted out justice by court.
"The verdict is a consolation for us as certain parties at that time went to the extent of criticising us, stating as it was a preplanned attempt by us to fly to the USA," he said.
Gunathilake said the court verdict came after 13 long years, adding that they hope to remain in Sri Lanka most of their time in the future.
However, he said due to parental obligations they have to fly time to time to the USA as their children are still continuing education in that country.
Gunathilake said as they want to get rid of mental burden of this incident, they decided to forgive those who were indicted for being involved in this case.
He said as a devout follower of Jesus, he believes in forgiving, adding that he is not afraid of facing challenges. He said their decision to forgive those who were punished would be officially informed to President Mahinda Rajapaksa in writing and verbally.
Responding to a question as to whether he seeks punishment for the individual who was responsible in giving the order to execute the crime, Gunathilake said no culprit can escape from nature or divinity. He said up to now this individual has not admitted involvement in this incident.
Commenting on artistes' involvement in politics, he said anybody should have the freedom and independence to engage in political activities adding that their opinions are influential for the public due to their close association with the people at large.
Responding to another question, he said if royalty payments are done in a proper manner, local artistes would not undergo financial difficulties as they experience now. He said many television channels and radio channels owe them considerable amounts.
Artiste Chandralekha Perera also addressed the media conference.
(Courtesy: Daily News)