Weliweriya incident: Warning of coming events
Posted by Editor on August 14, 2013 - 8:31 am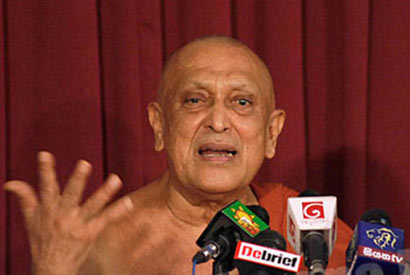 Ven. Maduluwawe Sobitha Thera said yesterday the attack on innocent civilians who protested for clean water at Weliweriya was a serious warning about the future of the people in the country.
"The people in Rathupaswala who suffered for a long time due to the contaminated water issue were fired on and killed. But now there was no one who ordered the army. No army in the world uses their arms without an order. This was a serious situation for the future. It is wrong to call on the army when there was no state of emergency.  If the army was attacked and fired on, why were they not arrested?  Who gave permission for this factory despite there being a Central Environment authority in the country? Today anyone can do anything if they have money, political power and use thuggery. There was no law and equality. The government cannot shy away from the incident saying there was a political conspiracy behind this. There cannot be a political agenda behind this pretest for clean water. Everyone despite political differences needs water," he said.
Ven. Sobitha Thera told a news conference organised by the Temperance Youth Organisation of Sri Lanka in Colombo yesterday that a free and fair election cannot be expected unless independent commissions such as independent police and election commissions were established.
"We can expect a free and fair election only through independent commissions. Today there is no police commission. And it is politicised. The opposition politicians do not get any assistance from the police. We can see state property is being used for election campaigns. Can the election using state property be considered free and fair? What power does the Election Commissioner have over this? The complete power of the police should be entrusted on the Elections Commissioner so that he could act against those who violate election laws," Ven. Sobitha Thera said.
(Courtesy: DM Online)
Latest Headlines in Sri Lanka