Sajin denies owing Rs 170m to CPC; to take legal action
Posted by Editor on January 16, 2015 - 5:41 pm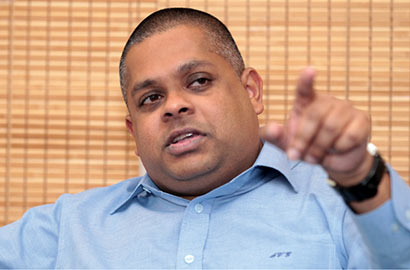 UPFA MP Sajin de Vass Gunawardena today rejected allegations that he owes the Ceylon Petroleum Corporation (CPC) a sum of Rs 170 million for fuel supplied to a petrol station owned by him in Ambalangoda.
It was reported yesterday that the CPC has refused to issue fuel to the petrol station which is said to have been owned a company linked to the well known politician of the former government, due to his failure to pay the mammoth figure.
There is no truth to these accusations, the former External Affairs Ministry Monitoring MP told Ada Derana.
He stated that the policy of the CPC is to provide fuel after the payment is made and that therefore even the fuel station located in front of the Ambalangoda bus stand, which is connected to him, obtains fuel only after making the payment.
He stated that when several employees had attempted to make a payment yesterday to obtain fuel for the petrol station, which is owned by the company "Phosphate Technology," officials had informed them that fuel cannot be supplied as the petrol station has been sealed.
However, Gunawardena said that he has received information that attempts are being made to annul the agreement with the CPC with regard to the fuel station and transfer ownership to another person. The Galle District MP said he has no issue if it is carried out in a legal manner.
He added that legal action will be initiated against the "false" allegations leveled against him through news reports by various media organizations claiming that he had cheated Rs 170 million.
However, the Petroleum Corporation has not issued an official statement regarding the matter, he said, adding, that he therefore implores the relevant authorities at the CPC to correct these issues.
The fuel station in question which is located opposite the Ambalangoda Bus Stand has reportedly been closed since January 6, severely inconveniencing motorists as only two fuel stations existed for the supply of fuel in the town.
(Ada Derana)
Latest Headlines in Sri Lanka