Sajith chant revs up
Posted by Editor on November 13, 2018 - 8:07 am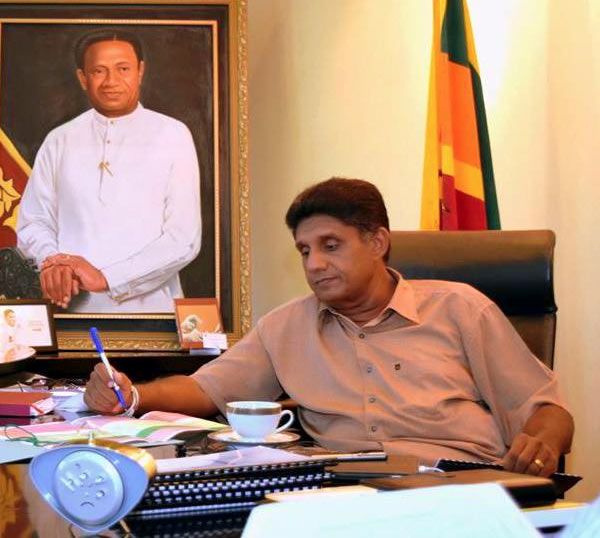 Amidst the intensifying political crisis in the country, a cross-section of Parliamentarians of the United National Party (UNP) openly requested Party Deputy Leader Sajith Premadasa to be the UNP Leader and the Prime Ministerial Candidate of the UNP in any General Election in the future.
While participating in recent protests against the President Maithripala Sirisena's arbitrary decision to dissolve Parliament, both UNP MPs Ajith P. Perera and Ranjith Madduma Bandara said that Premadasa should lead the UNP at the next presidential election and that he should be the Prime Ministerial Candidate.
Participating in the recent protest in Bandaragama, Perera said that the Party would win any Election under the leadership of Premadasa and that a change in the Leadership was essential at the present moment.
Meanwhile, at another protest in Moneragala, Madduma Bandara said that he would suggest Premadasa as the Party Leader. Elsewhere at a media briefing at Temple Trees, UNP MP S.M. Marikkar said that the Leadership change was essential to the Party and that the Party should move forward with a new Leadership. Before all UNP Members start protesting in front of Temple Trees, UNP Leader Ranil Wickremesinghe should vacate the seat, honour intact and install the much younger Premadasa as the Party Leader, stressed the National Organization for the Protection of the UNP during a press conference yesterday (12).
Wickremesinghe did not do his best on behalf of the nation and he failed his Party Members during the 2002 UNP Government and the 2015 National Government, said the Secretary of the Organization Martin Wickramasinghe.
"When he formed an alliance with President Sirisena, most UNP Members left the Party. Sirisena used to harass Polonnaruwa seat UNP Members when he was a Minister under former President Mahinda Rajapaksa's Government, so that was the biggest betrayal of all. UNP Members are disappointed with the current leadership," noted Wickramasinghe adding their Organization takes full responsibility if Premadasa becomes the Leader of the Party. UNP Members at ground level are all cheering for young Premadasa, as he is the much-vaunted Leader, who is in tune with the needs of the people. Only he who could influence everyone for better and furthermore young Premadasa is the only one who is capable of defeating both forces Sirisena and Rajapaksa, said the Gampaha District Secretary of the Organization, Premasiri Silva.
(Source: Ceylon Today – By Kalana Krishantha and Gayathri Gunasekara)
Latest Headlines in Sri Lanka