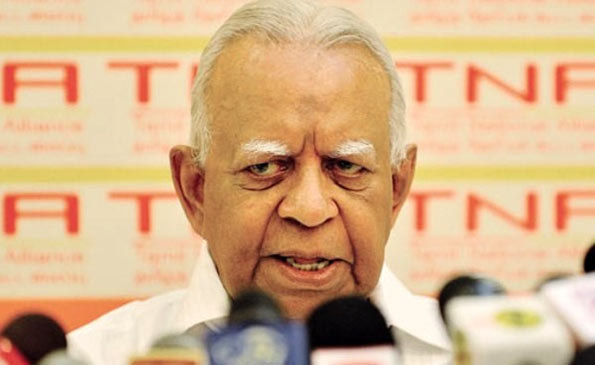 Opposition Leader R. Sampanthan yesterday queried in Parliament as to why retreating student demonstrators at Ward Place were attacked by the Police last Thursday.
Raising a question under Standing Order 23 (2), he said the attack was thoroughly unwarranted and it showed the reckless conduct on the part of the Police.
He noted it was the anti-thesis of good governance the government promised. "The students were unarmed. They had a perfectly legitimate demand. They were prevented from moving ahead as the Police had placed barricades. Therefore they attempted to remove them to go forward, and the Police used water cannons at that point," he said.
"The students retreated and they moved backwards not forward, but they were attacked with batons. Many of the protesters sustained injuries. The Police, who are entrusted to enforce the law, were breaking the law. The people in a democratic country have a right to protest to meet their grievances. Our youth cannot be treated in this callous manner," Sampanthan said.
He demanded the government to hold a proper inquiry into the incident and take action against those responsible for the attack including those who gave the command.
Sampanthan urged the government to ensure the non-repetition of such incidents in the future. He directed the attention of the government over the issue of unemployment of youth.
"We give them free education but they cannot find jobs after completing that education. The youth in the North and East are discriminated when it comes to employment. Our education does not seem to be employment oriented. These have contributed to the grave concerns of our youth," Sampanthan said.
(Daily News)