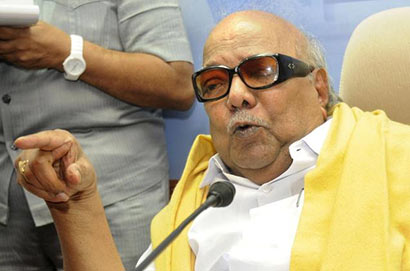 Against the backdrop of over 100 Tamil Nadu fishermen continuing to be in Sri Lankan prisons, DMK chief Karunanidhi wondered if the island nation was 'slighting' India's request for their release.
"Does the Central government accord importance to the representations of political parties and the state government over the travails of Tamil Nadu fishermen, or is the Sri Lankan government slighting India's request (seeking fishermen release)," he asked in a statement on Tuesday.
On October 25, Tamil Nadu government had said 86 fishermen, arrested by the Lankan Navy in the past two months, would be released on October 28 following Centre's assurances.
It had also assured to release two Sri Lankan fishermen in its custody the same day.
Citing this, he said 34 more were apprehended later. "Convincing Tamil Nadu government and Chief Minister Jayalalilthaa, the Central government had assured that fishermen will be released on October 28," he said and wondered if "the Sri Lankan government had hoodwinked the Centre itself through assurances."
"Without any further delay, it will be good only if the Central and state governments take intense efforts to secure their release in a day or two," he said.
Referring to Sri Lanka's proposal of hefty fine on fishermen who transgressed into their territory and its "contradictory stance" over issues, he rued that Centre still treated the island nation as a friendly country.
He also expressed displeasure over the Indo-Lanka joint Naval exercise in the island nation.
(Source: PTI)