Sanga's choice of openers upsets Jayasuriya
Posted by Editor on August 29, 2010 - 9:49 am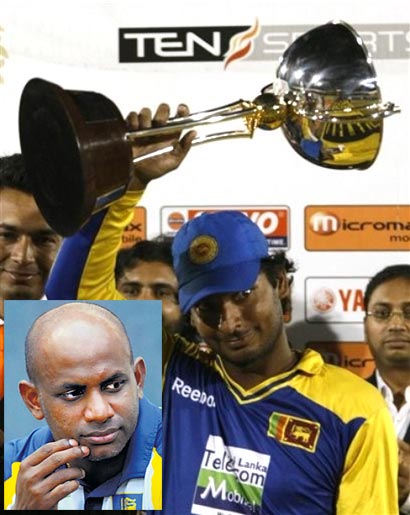 News Courtesy: Deccan Herald
Sanath Jayasuriya questioned the wisdom of Kumar Sangakkara making his choice of batting line-up for the World Cup public, saying as skipper, Sangakkara should be more responsible about the statements he made.
Sanath Jayasuriya"You can have your opinions as an individual, but when you are in a position of responsibility, you must be careful of what you say in public," the most capped one-day player in the history of the game told Deccan Herald.
Sangakkara's preferred line-up does not include Jayasuriya, the current captain plumping instead for younger guys like Dinesh Chandimal and Jeevan Mendis who are not in the squad for the tri-series under way.
"I am not disappointed, it's just an individual making a statement," the 41-year-old Jayasuriya reiterated.
"Anybody has the freedom to do so, but we must remember that there is a system in place, there are four selectors whose job it is to pick the team. Yes, the captain must have a say, I agree, but at the end of the day, the players must play the game and the administrators must run it.
"There are six months between now and the World Cup, anything can happen in that period. For the captain to come out and make his choices clear and public is not in good taste. What are the selectors there for?" Jayasuriya, an elected member of Parliament, questioned.
The explosive left-hander hasn't played for Sri Lanka since the World T20 in the Caribbean, and his last 50-over game for the country was in India last December. "I am still fit, and I have the same enthusiasm as before," the former skipper went on.
"I have been training with the domestic season in mind. I have come up the hard way, taken several knocks along the way and therefore I value playing for Sri Lanka. I feel I still have what it takes to succeed at the international level.
"Now that I have retired from Test cricket, I am managing my cricket better, too," he observed. "Age is just a number, I don't think it has affected my fitness in any way because I work really hard to stay fit. And I don't give up. I know that eventually, it's performances that will count, and that once the provincial tournament starts, I must grab my chances and make runs. I was happy with the runs I made for Worcestershire this season in England, and I am confident I will deliver in the domestic competition too."
Massive stage
Only Javed Miandad has played in six World Cups. Jayasuriya and his Mumbai Indians skipper Sachin Tendulkar have been part of five campaigns, with a sixth beckoning. "The World Cup is a massive stage, and I personally feel the future of 50-over cricket is secure," Jayasuriya pointed out. "It's a bit disappointing that the fans aren't flocking the grounds to watch one-day cricket like they used to. Now, it's all about T20 cricket – the combination of cricket and entertainment. Plus, you get a result in three hours. The administrators must find ways of bringing the crowds back to 50-over cricket."
One of the pioneers of making the most of the first 15 overs, Jayasuriya agreed that the face of the 50-over game had changed. "There aren't too many destructive openers. Of course, there is Sehwag who is a unique player. There is no doubt he is the most explosive opener now. But with the introduction of the batting Power Play, there is scope to make quick runs in other positions too."
Latest Headlines in Sri Lanka