Sangakkara, Jayawardene support Malinga's decision
Posted by Editor on April 24, 2011 - 8:42 pm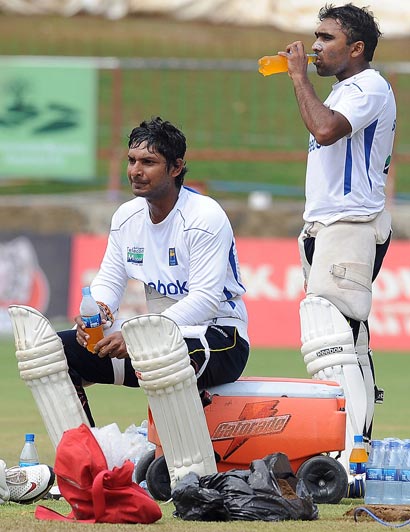 Former Sri Lankan captains Kumar Sangakkara and Mahela Jayawardene have backed fast bowler Lasith Malinga's decision to quit Tests on account of a degenerative knee condition. Malinga announced his retirement last week, when the Sri Lankan board questioned his participation in the IPL after withdrawing from the upcoming England Tests citing fitness issues. Sangakkara pointed out that Malinga's decision was best for the team, while Jayawardene said it was the right call from a personal point of view.
"We were all well aware of the seriousness of his knee condition and while I was captain we tried to manage him as carefully and sensitively as possible during the past couple of years," Sangakkara wrote in his column in the Times of India. "We obviously wanted him to play Tests, but when we asked him to play the India tour it took him two months to physically recover from that."
Sangakkara revealed that Malinga's future was one of the issues he had discussed with the Sri Lankan board while stepping down from captaincy. "The truth is that Lasith is our best fast bowler in limited-overs cricket right now," Sangakkara wrote. "If we forced him to play Tests we would be running the risk of losing him completely. That would be a tragedy for Sri Lanka, undermining both the ODI and T20 teams."
Sangakkara dismissed suggestions that Malinga chose to quit Tests in order to extend his participation in the lucrative IPL. "Malinga has always given his best as a national cricketer. Had it not been for his knee problem he would definitely want to play Tests. I fully support his decision and hope that as a result of it we see him playing for a few more years."
Jayawardene, who was in charge of the Sri Lankan side before Sangakkara took over said it was unfair to criticise Malinga's decision. "Given the state of his knee condition, there is no point in him taking the risk of playing Test cricket," Jayawardene wrote in the same newspaper. "If he breaks down then it will be bad for Sri Lanka. We want him playing for us as long as possible. Some people have criticised the decision, arguing that he is being selfish. This short-sighted argument is very unfair given that he clearly has a chronic knee problem.
"Lasith is a human being and, while he is totally committed to Sri Lanka, he also has responsibilities as a husband and, one day hopefully, a father. If his career is ended by injury, who is going to look after him and his family? When he suffered the injury the first time he was stripped of his central contract within about six months and left with no income.
"Any individual in any profession has to consider their personal and family interests when they make big decisions in their life. Why should a professional cricketer be any different? We need to support him and protect him. He is a natural match-winner and a great asset for Sri Lanka. We should be grateful for his services and help him look after himself."
Courtesy: ESPN CricInfo
Latest Headlines in Sri Lanka