Senior Japanese Diplomat Yasushi Akashi Meets President Rajapaksa
Posted by Editor on September 6, 2014 - 8:00 pm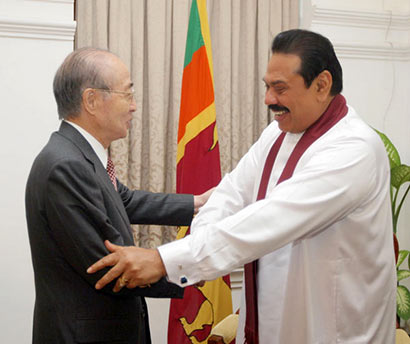 Representative of the Government of Japan for Peace Building, Rehabilitation and Reconstruction in Sri Lanka Mr. Yasushi Akashi called on President Mahinda Rajapaksa at Temple Trees this afternoon, ahead of Japanese Prime Minister Shinzo Abe's visit to Sri Lanka tomorrow (Sept. 7).
President Rajapaksa expressed that Prime Minister Abe's visit is an important one to Sri Lanka. It has been 24 years since a Japanese prime minister last visited the island.
"It's a very important visit for Japan, and I hope for Sri Lanka as well," Mr. Akashi said, adding that Japan is "deeply grateful for your cooperation and good understanding."
Mr. Akashi said that in addition to working on domestic issues, "Prime Minister Abe also makes sure that Japan has good friends outside the country."
The President and Mr. Akashi also spoke at length about reconciliation efforts being adopted by the Government. President Rajapaksa briefed Mr. Akashi on the work of the Presidential Commission to Investigate into Complaints Regarding Missing Persons and progress achieved in demining.
"Your progress in demining is extraordinary," Mr. Akashi said. "In Cambodia, they are still demining. (We have) deep appreciation and gratitude to you for having done so much in the way of national reconciliation."
Mr. Akashi went on to say that countries emerging from conflict like Sri Lanka should not be asked to make all the changes immediately and should be given the opportunity for a "soft landing, not a hard landing." He also said that it was his opinion that a "non-judicial approach is more fruitful" to resolving many post-conflict issues.
Recalling President Rajapaksa's visit to Japan in March 2013, Mr. Akashi said that too was a historic occasion for Japan. After his meeting with the President in 2013, Mr. Akashi described the post-conflict development in Sri Lanka as "phenomenal."
"I was simply amazed by the ability of the people in the government, starting from the leadership, to mobilize the extra effort in a very effective manner," he further said while speaking to media in Japan last year.
The Ambassador of Japan in Sri Lanka Mr. Nobuhito Hobo accompanied Mr. Akashi for the meeting.
Minister of External Affairs Prof. G.L. Peiris, Monitoring MP of the Ministry of External Affairs Mr. Sajin de Vass Gunawardena, Secretary to the President Mr. Lalith Weeratunga, Secretary to the Ministry of External Affairs Mrs. Kshenuka Senewiratne and Sri Lanka's Ambassador in Japan Admiral (Retd) Wasantha Karannagoda were present for the meeting.
(President Media)
Latest Headlines in Sri Lanka