Distilleries losing business to competitors not paying tax
Posted by Editor on September 7, 2014 - 9:46 am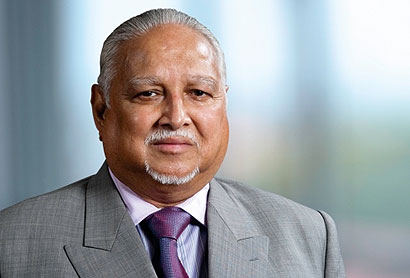 Mr. Harry Jayawardena, Chairman of the Distilleries Company of Sri Lanka PLC (DCSL), has complained bitterly of the lack of a level playing field for the alcohol business with rampant increase in non-invoiced and tax-unpaid alcohol openly eating into the market share of legitimate businesses.
The year ended March 31, 2013 had seen the DCSL group seeing turnover dip from Rs.65.8 billion to Rs.63.2 billion while at company level revenue was down from Rs.51.5 billion to Rs.47.75 billion.
While group profit after tax was up to Rs.6.2 billion from Rs.5.25 billion a year earlier, the company saw the profit decline from Rs.6.87 billion to Rs.5.35 billion.
Jayawardena said that every business needs a level playing field to function to its optimum potential, to expand and grow in volume and value.
"However, such a just and level playing field continues to remain out of reach for us year after year," he complained.
"The rampant increase in the non-invoiced and tax-unpaid alcohol sector is openly eating into the market share of legitimate alcoholic beverage businesses such as ours, which pay taxes as per the laws of the land while adhering to the strictest quality guidelines."
He said that DCSL does not directly or indirectly lure young people into alcoholism, "and never under any circumstances target children."
But certain industry players circumvent the National Authority on Tobacco and Alcohol (NATA) Act and resort to various subtle, tactical and innovative campaigns to do so.
""Yet, we note with concern that the authorities turn a deaf ear and a blind eye to such actions," he alleged.
Jayawardena said it was his firm conviction that the non-invoiced and tax unpaid alcohol sector should be the focus of investigation and national scrutiny as it is a scourge and promotes alcohol abuse and other social problems.
"Moreover, even the national coffers are denied substantial excise revenue which could be accrued if the non-invoiced and tax unpaid alcohol sector was discouraged by better enforcement and checks," he said.
Pointing out that DCSL's tax payment to the State have come down from Rs.40 billion in 2013 to Rs.37 billion in 2014 due to a drop in sales as a direct result of the rise in the non-invoiced and tax unpaid alcohol segment and duplicate products in the market.
He estimated that if their beverage sector had continued to grow at a steady trajectory on a level playing field, state coffers would have benefited from approximately an additional Rs.15 to Rs.20 billion tax revenue from them.
Jayawardena said that 65% of the labeled price of their product goes to the state in the form of taxes.
On top of the loss of excise revenue due to the growing untaxed alcohol business, there was leakage of ethanol from local sugar factories and illegally imported ethanol in the market.
"It is common knowledge that the paint and cologne industries act as a front for the import of spirits in order to pass through customs, while also functioning as a front for the illegal manufacture and sale of liquor, which is sold cheaper than those that are heavily taxed," he said.
Jayawardena stressed that it is vital that regulators enforced the law and contain the widespread corruption that fuels illicit business activities in the alcohol sector. DCSL has made representations to the authorities in this regard and was hopeful that the government will reclaim its lost excise revenue by stamping down the untaxed alcohol sector sooner rather than later.
He said that despite violations taking place in the industry, they remained optimistic about the potential of their alcoholic beverage business. This bullish view has reflected in their investment of Rs.2.5 billion in a state-of-the-art blending and bottling plant which will enhance capacity, enable better packaging and presentation, and prevent adulteration of their products.
DCSL has a stated capital of Rs.300 million, reserves of Rs.20.8 billion and retained earnings of Rs.32.5 billion in its books.
Considered one of the wealthiest quoted corporates in the country, its total assets run at Rs.83.7 billion and total liabilities at Rs.23.7 billion.
Milford Exports (Ceylon) Limited with 41.49% is the largest shareholder of the company followed by Lanka Milk Foods (12.65%), Mr. M.A. Yaseen (11.08%) and Mrs. Lorraine Estelle Marlene Yaseen (4.78%).The dominant shareholders of DCSL are companies/entities that are controlled/influenced by Mr. Harry Jayawardena.
The DCSL share traded at a high of Rs.218 and a low of Rs.160 during the year under review against a trading range of Rs.190 and Rs.117 a year earlier. Net assets per share had grown to Rs.146.13 from Rs.130.52.
The directors have recommended a dividend of Rs.3.25 per share against Rs.3 per share paid the previous year.
The directors of the company are: Messrs. Harry Jayawardena (Chairman/MD), R.K. Obeyesekere, C. Jansz, N. de S. Deva Aditya, Capt. K.J. Kahanda (Retd.), C.F. Fernando, Dr. A.N. Balasuriya, A.L. Gooneratne (Alternate to N. de S. Deva Aditya) and V.J. Senaratne (Alternate to K.J. Kahanda).
(Courtesy: The Island)
Latest Headlines in Sri Lanka