SF aware CJ engaged in political campaign – Keheliya
Posted by Editor on December 25, 2012 - 8:13 am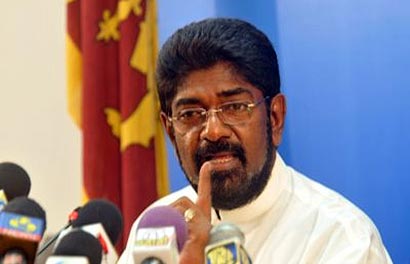 Sarath Fonseka has invited Chief Justice Shirani Bandaranayake to enter politics because he has understood through his past experiences that she is presently engaged in a political campaign without acting impartially in her post, Mass Media Minister and Cabinet spokesman Keheliya Rambukwella said.
Fonseka is fully aware of the programme launched several years ago to draw him into politics. Inviting the Chief Justice too to enter politics should not be taken lightly, he said.
"The people should think of it deeply and understand it in an intelligent manner," the minister said.
Rambukwella addressing the media in Kandy yesterday, said ever-since the LTTE and its international diaspora was militarily defeated, "Forces sympathetic to them had been carrying on a subtle campaign to win over people holding high positions in the country to their side. The first item on their plan was to win over the country's former Army Commander. Their second objective in their plan now is to win over the Chief Justice," the minister said.
He said these forces particularly targeted the high positions in the country rather than the individuals holding them. "One should not be surprised if they even tried to aim at still higher posts in this country in the future," the minister said. Fonseka who was drawn towards politics through the machinations of these sinister forces, has now been relegated to the political dustbin. Their next target would be to draw the Chief Justice too into politics and relegate her to the political dustbin as well," Rambukwella said.
Courtesy: Daily News
Latest Headlines in Sri Lanka