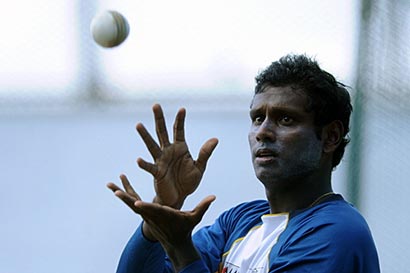 Vice Captain of the Sri Lanka cricket team Angelo Mathews said that he is ready to take over as skipper once Mahela Jayawardene steps aside at the end of the current series, the AAP reported today.
"I'm pretty much prepared. If they offer me the captain's job, I'll probably take it," Mathews said.
"Mahela's done a wonderful job and it's not easy to take those reins and do as well as Mahela. It will be a tough challenge.
"But let's see how it goes."
Mathews has made 79, 84 and 75 in his past three Tests, but despite 11 half-centuries has only once scored a Test century.
That was against Australia, and Mathews has also shone at the MCG in a one-day international when his 77 not out as part of a 132-run ninth wicket stand gave Sri Lanka an extraordinary one-wicket win over the Aussies in 2010.
The all-rounder goes into the Boxing Day Test – Sri Lanka's first Test at the MCG since the infamous 1995 Muttiah Muralitharan chucking controversy – in run-scoring nick.
With Australia set to hand paceman Jackson Bird a Test debut, Mathews admitted the Sri Lankans knew little about the Tasmanian.
"To play for Australia, he has to be a good bowler – we cannot take him lightly," Mathews said.
"We have to try and be careful and take on the challenge. We need to get hold of his videos and analyse him."