SF launches polls campaign in Jaffna
Posted by Editor on July 5, 2013 - 8:37 am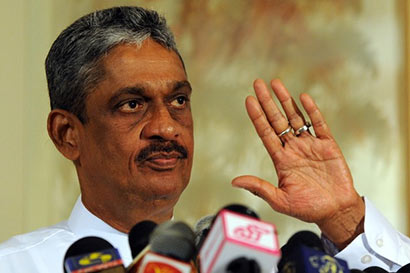 Democratic Party (DP) leader Gen. Sarath Fonseka is confident of mustering the northerners' support for the unitary character of the state.
Responding to a query by The Island, the former army commander said yesterday that he believed there were northerners who still had faith in a unitary state.
Gen. Fonseka was on his way to Jaffna for the launch of DP's propaganda campaign in the run-up to the first northern provincial council election.
The former army chief said that he would be having a meeting in Jaffna with some people's representatives today (5) to discuss the situation.
Asked whether he had been to Jaffna recently, he said that the visit was the first since his presidential campaign there in early 2010.
The war winning general quit the post of Chief of Defence Staff (CDS) to challenge incumbent President Mahinda Rajapaksa at the November 2005 presidential polls.
His effort was to find a group of candidates from the Northern Province committed to genuine peace. The DP would contest the Northern, Central and North Western Provincial Councils on its own, Gen. Fonseka said, adding that his campaign was on track.
Asked whether the DP was ready to work with other political parties and key political figures like former President Chandrika Bandaranaike Kumaratunga, General Fonseka said that he didn't see any difficulty in forging a joint operation.
General Fonseka said that he had got an opportunity to meet former President Kumaratunga at the American National Day celebrations at the Colombo Hilton. He quoted the former president as having said that the government was trying to drive a wedge between her and the SLFP. In an obvious reference to recent claims that the former SLFP leader was planning to bring her son Vimukthi into politics, Mrs Kumaratunga alleged that the government was spreading rumours against her.
(Courtesy: The Island)
Latest Headlines in Sri Lanka