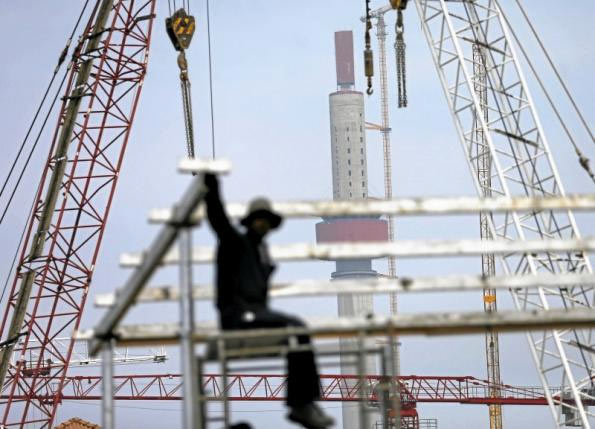 Just over a year after a new leader was elected and Sri Lanka's business ties with China came under close scrutiny, Colombo is reversing course by resuming a stalled port project and naming Beijing as the front runner for a new special economic zone.
India is nervous about losing influence over the island nation off its southern tip, while China's push into the Indian Ocean, and the possibility of dual purpose civilian-military facilities in Sri Lanka, are raising alarm further afield.
The ouster of President Mahinda Rajapaksa, who steered Sri Lanka toward China until 2015, was a setback for ties, as his successor reviewed projects to check if they were fair and legal.
Now Maithripala Sirisena's government, faced with falling foreign reserves, a balance of payments crunch and few, if any, alternative investors, is heading back into Beijing's embrace, albeit on better terms than before.
"The stance on China has completely changed," cabinet spokesman Rajitha Senaratne told Reuters. "Who else is going to bring us money, given tight conditions in the West?"
Most of the focus has been on the $1.4 billion port city China wants to build in the commercial capital, Colombo, where cranes and diggers have sat idle for months.
But according to International Trade Minister Malik Samarawickrama, Chinese investors have also expressed interest in a special economic zone (SEZ) in Hambantota, southern Sri Lanka, where a $1.7 billion seaport and airport built by the Chinese are operating at a fraction of capacity.
"We will agree to that. They will invest their own money. That's the way to go forward," Samarawickrama told Reuters.
INDIA "NOT CONCERNED"
Beijing's rehabilitation does not mean the door is closed to other potential investors in Sri Lanka's $79 billion economy.
Indian Foreign Minister Sushma Swaraj held talks with Sri Lankan Prime Minister Ranil Wickremesinghe for an SEZ in Trincomalee last week, according to an Indian official.
And New Delhi said it was not unduly worried by China's return to pole position in talks with Colombo.
"The relationship between India and Sri Lanka is robust, is getting stronger," said Renu Pall, joint secretary in the Indian foreign ministry in charge of the Indian Ocean region.
But so far, only Beijing had come up with specific proposals for a trade zone, an official at Sri Lanka's Board of Investment said.
Beijing has already pumped hundreds of millions of dollars into roads and ports since the end of Sri Lanka's civil war in 2009, when Colombo was largely shunned by Western investors over its human rights record.
China's interest is seen as part of its ambitions to build a "Maritime Silk Route" to the oil-rich Middle East and on to Europe.
That makes some countries, including India and the United States, nervous, with Sri Lanka sitting near shipping lanes through which much of the world's trade passes on its way to China and Japan.
Western diplomats have expressed particular concern over Hambantota, located in Rajapaksa's stronghold on the southern tip of the country, because they say it could have both civil and military use.
Sri Lanka's government says such fears are misplaced and that it plays host to a far higher number of ship visits by other foreign navies, including India's.
IMPROVING TERMS OF DEALS
The SEZ in Hambantota is the biggest of four proposals made by the Chinese to Sri Lanka's Board of Investment, the official there said. He did not provide details about others.
The SEZ is one of 45 projects the government plans to help lift growth at a time when public finances have deteriorated and Colombo is seeking an emergency IMF loan to avert a balance-of-payments problem.
Trade Minister Samarawickrama said the government decided to go ahead with the Colombo port city project after proposing to the Chinese to reduce the land area and limit the environmental impact.
Already, the suspension of work has cost $380,000 a day overall, according to state-owned China Communications Construction Co Ltd (CCCC), which is financing the project.
"During negotiations, the new Sri Lankan government understood the reality and also the fact that they were legally bound by the contract," said an official at CHEC Port City Colombo (Pvt) Ltd, the local company handling the project.
Sri Lanka and the Chinese government also discussed loan terms, which critics said were too onerous on the host country, Finance Minister Ravi Karunanayake told Reuters.
"Everything is going well. If there were 7 percent (interest) loans, we have reduced to lower-regime loans," he said, without detailing which loans were being renegotiated.
China said it looked forward to working closely with Sri Lanka.
"We believe Sri Lanka … will continue to deepen practical cooperation with China," said foreign ministry spokeswoman Hua Chunying.
(Reuters)