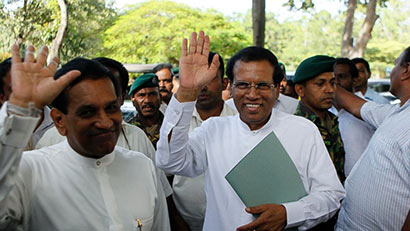 Opposition Presidential Candidate Maithripala Sirisena yesterday said that he would protect the Rajapaksa family after winning the presidential poll on January 08.
Addressing a media conference at the Opposition Leader's office in Colombo, Sirisena said that he would not allow any member of Rajapaksa family or members of the armed forces to be hauled up before an international war crimes tribunal.
Pro-LTTE Global Tamil Forum chief Suren Surendiran had recently said in a TV interview that President Mahinda Rajapaksa would be taken before the International War Crimes Tribunal after his defeat at the Jan. 08 presidential polls, Sirisena said, adding that he would not allow that to happen.
"I'll protect all members of Rajapaksa family and war heroes on my watch," he said, adding however Sri Lanka did not sign for any conventions.
Sirisena said that he would work towards reconciliation of all ethnicities and religions according to the recommendations of the Lessons Learnt and Reconciliation Commission (LLRC).
The Polonnaruwa District MP said that all benefits President Mahinda Rajapaksa promised to the people in 2015 budgetary proposals would be granted.
He also promised to continue all development projects launched by the UPFA government without waste and abuse of public funds. "We will set up a national government just after the presidential election together with parties that represent Parliament at present," Sirisena said, noting that if the present Parliament agreed to work according to his policies Parliament would not be dissolved.
He said that his aim was to abolish the executive presidency within 100 days.
Chairman of UNP Leadership Council Karu Jayasuriya, former Fisheries Minister Dr. Rajitha Senaratne, JHU Parliamentary Group Leader Ven. Athuraliye Rathana Thera and former Deputy Minister of Buddhasasana and Religious Affairs M. K. D. S. Gunawardena also attended the media conference.
(Courtesy: The Island)