SL asks: Can a banned terror group move judiciary in US? MR meets Indian PM, UN Chief and US Congress
Posted by Editor on September 26, 2011 - 9:31 am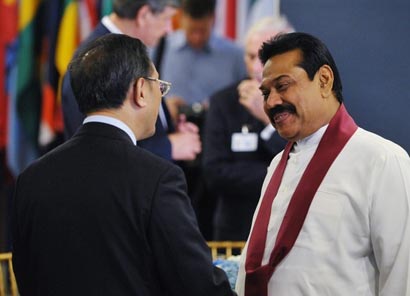 The Sri Lankan government yesterday said that in spite of accusing its military of massacring as many as 40,000 civilians, the LTTE had had to depend on an LTTE cadre, Vatsala Devi to move the US judiciary against President Mahinda Rajapaksa and Ambassador Shavendra Silva, former General Officer Commanding (GOC) of the celebrated 58 Division, over war crimes relating to the death of a hardcore terrorist, Thambirajah Ramesh. The LTTE couldn't still find an ordinary family to pursue its destabilisation project, the Defence Ministry said.
The LTTE is a proscribed organisation in 32 countries, including the US.
Ramesh's wife, Devi, now based in South Africa, figured in both civil cases. In the first case, Devi filed a case through one-time LTTE negotiator US citizen Visvanathan Rudrakumaran, a New York based attorney-at-law against President Rajapaksa, while she teamed up with Seetharam Sivam, described as the legal representative of his father believed to have been killed in an SLA artillery strike on Puthukudirippu in 2009, to move court against Maj. Gen. Silva.
Army headquarters said that Devi had been an active LTTE cadre when she married Thambirajah Ramesh, who later rose to the rank of 'Colonel' in the LTTE. Ramesh was the brother-in-law of Sea Tiger commander Thillayampalan Sivaneshan alias 'Colonel' Soosai. Government sources said they would reveal atrocities committed by Ramesh and the involvement of his wife, Devi in terrorism.
Following the LTTE split engineered by Karuna Amman in early 2004, Ramesh sided with the Vanni faction and returned to the East as the senior man in charge of the outfit.
Sri Lanka's No 2 at the UN Ambassador Silva told The Island yesterday that two civil cases had been filed in New York on Friday (Sept. 23) targeting President Rajapaksa and him. The soldier turned diplomat said that summons had been served on him at his residence in the afternoon shortly after he left along with President Rajapaksa and his entourage. Silva declined to comment further. He said the government was having legal consultations.
The External Affairs Ministry said that President Rajapaksa had kept to his schedule in the US, though the LTTE and those backing the eelam project believed the Sri Lankan leader would cut short his visit following the filing of the cases.
President Rajapaksa met UNSG Ban Ki-moon at the UN on Saturday. It was preceded by another meet with US Congresswoman, Caroline B. Maloney and US Congressman, Robert Aderholf at breakfast in New York on Saturday. External Affairs Minister, Prof. G. L. Peiris, President's Secretary, Lalith Weeratunga and US Ambassador in Sri Lanka, Jaliya Wickramasooriya, were also present.
President Rajapaksa met Indian Prime Minister Manmohan Singh for bilateral talks in the wake of the LTTE moving court in New York.
In a 19-page plaint against Ambassador Silva, Devi acknowledged that she hadn't been even in Sri Lanka at the time Ramesh was killed on the Vanni east front. Devi said that she had left Batticaloa in late April 2009 and reached South Africa and last spoke to Ramesh on May 15, 2009. She said that there hadn't been any subsequent contacts with Ramesh and there was no way of knowing about his whereabouts.
Devi also claimed that her husband had planned for a conditional surrender to the 58 Division.
Responding to a query by The Island, the Defence Ministry said that the former US Defence Attache, who had been based in Colombo during eelam war IV was on record as having said that the LTTE fighting cadre made no attempt to work out an organised surrender on the Vanni east front. This statement was made in Colombo a few months ago responding to a query by a retired Indian Army officer at a defence forum.
Authoritative sources said that both President Rajapaksa and Defence Secretary Gotabhaya Rajapaksa had vowed to meet the legal challenge. President Rajapaksa was quoted as having emphasised that he wouldn't run away in the face of unsubstantiated allegations made by the LTTE and its sympathizers.
The LTTE has based both cases on the controversial Darusman report.
Courtesy: The Island / Pix by Getty Images
Latest Headlines in Sri Lanka