Slew of measures for Sri Lankan refugees in camps
Posted by Editor on March 25, 2012 - 10:56 am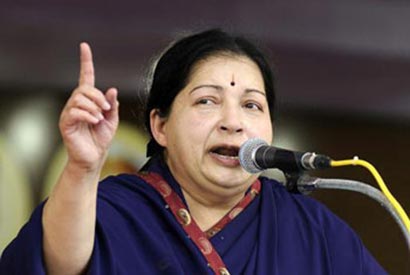 Chief Minister Jayalalithaa on Saturday announced a slew of welfare measures for Sri Lankan Tamil refugees, including financial assistance for self-help groups (SHGs) in camps, and extension of Chief Minister's comprehensive insurance scheme to the refugees.
The other announcements pertained to scholarship for students pursuing higher education and Rs. 25 crore for developing infrastructure of refugee camps.
Welcoming the State government's move to provide financial help to the SHGs, the Organisation for Eelam Refugees Rehabilitation (OfFER) founder S.C.Chandrahasan described it as a "big breakthrough" in rehabilitation.
"It will free the refugees from the clutches of unscrupulous private money lenders. The refugees can save money and it will ensure their livelihood once they are back home where livelihood is a challenge" Mr Chandrahasan told The Hindu.
An official release stated that the annual assistance for undergraduate (BA) students would be Rs 1,200; B.Sc students – Rs 1,250; M.A. students – Rs 1,330 and M.Sc. students – Rs 1,650.
The annual scholarship for students of diploma courses had been fixed at Rs. 850 per year; engineering students – Rs. 2,750; MBBS students – Rs. 4,700; B. V. Sc students – Rs. 1,400; B.Sc (Agriculture) students – Rs. 2,850 and B.L students – Rs. 860.
A total of 1,000 students would benefit under the scheme and it would cost the government Rs. 20.98 lakh.
The government announced that 416 women SHGs in the camps will get a one-time grant of Rs. 10,000 each.
The Chief Minister also ordered release of Rs. 4.33 crore for improving the drinking water facility in the camps. Another Rs 20.66 crore would be spent for repairing houses, laying roads, construction of toilets, community halls, libraries, ration shops, kitchens and streetlights.
"This goes to show the magnanimity of the Tamil people and the government. During my recent visit to Sri Lanka, I interacted with officials of the Sri Lankan government and diplomats of other countries based there and I told them that in the entire world, it was only in Tamil Nadu refugees were covered under most of the welfare measures that were being given to people of the State," Mr. Chandrahasan said. He said the scheme for meeting the education expenses of the first graduate of a family in Tamil Nadu had already been extended to Sri Lankan Tamil refugees. "In addition now, we have been given scholarships. It will be of great help," he said.
He appealed to the State government to recognise the role of the Offer, which would facilitate the resettlement of the refugees in their country.
The Hindu
Latest Headlines in Sri Lanka